Book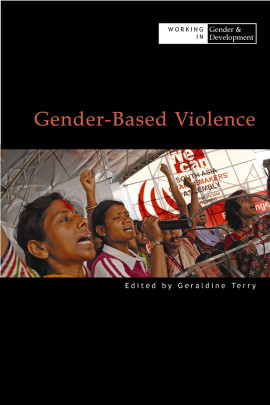 Gender-Based Violence
Published: 2007
Pages: 160

eBook: 9780855987589
Paperback: 9780855986025
This book brings together some of the most interesting and innovative work being done to tackle gender-based violence in various sectors, world regions, and socio-political contexts. Articles cover a wide range of manifestations of gender-based violence, including femicide, or the murder of women because they are women, domestic and sexual violence, female genital mutilation or cutting, the sexual exploitation of girls at school, and trafficking for prostitution. The case studies are drawn from South and East Asia, sub-Saharan Africa, and Central America, and a detailed list of resources completes the volume. This collection of articles will be useful to development and humanitarian practitioners, policy makers, and academics, including both gender specialists and non-gender specialists alikeWorking in Gender &Development series bring together themed selections of the best articles from the Oxfam journal supplemented with specially commissioned articles and material drawn from other Oxfam publications. Each title will be edited by a key thinker in the field, and will include an up-to-the- minute overview of current thinking and thoughts on future policy responses.
Introduction

1: Tackling violence against women: a worldwide approach

Ceri Hayes

2: Gender-based violence and property grabbing in Africa: a denial of women's liberty and security

Kaori Izumi

3: No more killings! Women respond to femicides in Central America

Marina Prieto-Carron, Marilyn Thomson, and Mandy Macdonald

4: Sexual violence during firewood collection: income-generation as protection in displaced settings

Sarah K. Chynoweth with Erin M. Patrick

5: Negotiating violence and non-violence in Cambodian marriages

Rebecca Surtees

6: Social policy from the bottom up: abandoning FGC in sub-Saharan Africa

Peter Easton, Karen Monkman, and Rebecca Miles

7: Constructing an alternative masculine identity: the experience of the Centro Bartolome de las Casas and Oxfam America in El Salvador

Susan Bird, Rutilio Delgado, Larry Madrigal, John Bayron Ochoa, and Walberto Tejeda

8: "We Can": transforming power in relationships in South Asia

Mona Mehta and Chitra Gopalakrishnan

9: Gender violence in schools: taking "the girls-as-victims" discourse forward

Fiona Leach and Sara Humphreys

10: Gender-based violence in and around schools in conflict and humanitarian contexts

Jackie Kirk

11: Reducing poverty and upholding human rights: a pragmatic approach

Meena Poudel and Ines Smyth

12: A tale of two cities: shifting the paradigm of anti-trafficking programmes

Smarajit Jana, Nandinee Bandyopadhyay, Mrinal Kanti Dutta, and Amitrajit Saha

Conclusion

Resources
Geraldine Terry
Geraldine Terry is researching gendered responses to climate impact in Uganda. She is based at the School of Development Studies at the University of East Anglia and is affiliated to the Tyndall Centre for Research on Climate Change and the Makerere Institute of Social Research, Kampala. She is the author of Women's Rights, published by Pluto Press.
Joanna Hoare
Joanna Hoare previously worked for Oxfam GB. She is now a freelance editor and writer on gender and development issues.
When the personal becomes political: using legal reform to combat violence against women in Ethiopia
Burgess, Gemma Lucy
Gender, Place & Culture, Vol. 19 (2012), Iss. 2 P.153
https://doi.org/10.1080/0966369X.2011.573142
[Citations: 8]
Smart Integrated Decentralization Strategies of Solar Power System in Buildings
Shah, Syed Muhammad Kashif
Rasheed, Tanzeel Ur
Ali, Hafiz Muhammad
Umar, Ahmad
International Journal of Photoenergy, Vol. 2022 (2022), Iss. P.1
https://doi.org/10.1155/2022/9311686
[Citations: 0]
Gender Norms and Beliefs, and Men's Violence Against Women in Rural Bangladesh
Fattah, Kazi Nazrul
Camellia, Suborna
Journal of Interpersonal Violence, Vol. 35 (2020), Iss. 3-4 P.771
https://doi.org/10.1177/0886260517690875
[Citations: 12]
Gender-based violence as difficult knowledge: pedagogies for rebalancing the masculine and the feminine
Lange, Elizabeth
Young, Susan
International Journal of Lifelong Education, Vol. 38 (2019), Iss. 3 P.301
https://doi.org/10.1080/02601370.2019.1597932
[Citations: 3]
Peer Relations, Violence and School Attendance: Analyses of Bullying in Senior High Schools in Ghana
Dunne, Mairead
Sabates, Ricardo
Bosumtwi-Sam, Cynthia
Owusu, Andrew
Journal of Development Studies, Vol. 49 (2013), Iss. 2 P.285
https://doi.org/10.1080/00220388.2012.671472
[Citations: 18]
Teaching the history of psychosocial consequences of sexual violence in the context of female psychiatric patients
Seferović, Jelena
Review of Education, Pedagogy, and Cultural Studies, Vol. 43 (2021), Iss. 2 P.119
https://doi.org/10.1080/10714413.2021.1913082
[Citations: 0]
Interrogating the "incel menace": assessing the threat of male supremacy in terrorism studies
DeCook, Julia R.
Kelly, Megan
Critical Studies on Terrorism, Vol. 15 (2022), Iss. 3 P.706
https://doi.org/10.1080/17539153.2021.2005099
[Citations: 1]
Understanding cultural violence and gender: honour killings; dowry murder; thezinaordinance and blood-feuds
Standish, Katerina
Journal of Gender Studies, Vol. 23 (2014), Iss. 2 P.111
https://doi.org/10.1080/09589236.2012.739082
[Citations: 10]