Book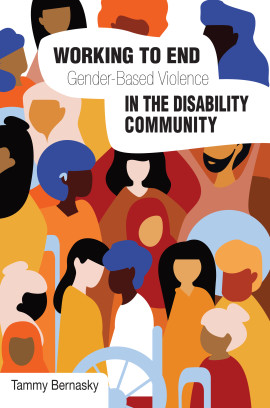 Working to end Gender-based Violence in the Disability Community
International Perspectives
Published: 2022
Pages: 166

eBook: 9781788531979
Violence and economic oppression affect women the world over, and women with disabilities face even greater risks than their counterparts. Women with disabilities experience violence and poverty in different ways and at higher rates than non-disabled women and all men.
This book explores gender-based violence and disability from the vantage point of resistance movements. Emphasis is placed on giving voice to the experiences of thirteen community organizers and self-advocates working to end gender-based violence. These stories, told from Australia, Bangladesh, Canada, Ghana, India, Kenya, United States, Nepal, and Yemen identify common challenges and transformative aspects of community organizing.
The challenges that emerged from these stories were negative perceptions of disability, a lack of representation in disability and feminist movements, inadequately addressing intersectional oppression, structural violence, and rights, justice and policy issues. These community organizers and advocates also identified important transformative elements which they describe as seeing their experiences reflected in the work, wanting a better situation for others, a raised awareness about gender-based violence against people with disabilities, having support from the community, and improved advocacy.
The book concludes with a discussion on the ways that movements to end violence can transform individual and collective consciousness about disability and gender oppression. Ultimately, in order for social movements to be ongoing and progressive, they require supporters and actors who individually and collectively recognize a common struggle, share a desire to ensure better for themselves and others, and exhibit a propensity to act.
Chapter One: Introduction

Chapter Two: Theoretical Framework

Chapter Three: Methodology

Chapter Four: Participant Experiences

Chapter Five: Transformations

Chapter Six: Conclusion
'In this impressive book, Tammy Bernasky amplifies the pivotal work of women and trans people with disabilities engaged in social movement mobilisation to bring an end to gender-based violence within the disability community. The book tackles a series of critical questions about the conditions and ethical orientations that shape advocates repertoires of organising across nine different country contexts. An outstanding contribution to the field. A handbook for activists, advocates and scholars seeking to interrupt the normalisation of gender-based violence within the disability community.'
Professor Karen Soldatić, Western Sydney University

'Working to End Gender-Based Violence in the Disability Community makes significant contributions to social movement theory, as one of very few to address the gaps in gender and disability analysis in this field of social research. The book is based on Dr. Bernasky's qualitative inquiry with women and trans people working in disabled people's organizations in Australia, Bangladesh, Canada, Ghana, India, Kenya, and Nepal, the US, and Yemen.
The book is informed by Dr. Bernasky's expertise in qualitative and emancipatory research methods; institutional analysis; critical legal and policy studies; histories of critical social theory; and cutting-edge theorizations of structural violence, social transformation, and critical consciousness. The volume contributes to movement-building, and to transnational scholarship on disability and gender.
Dr. Bernasky is a highly accomplished and skilled social researcher who is deeply connected to local and international advocates focusing on gender, disability, and economic rights in an array of national contexts. Dr. Bernasky's insights on international community development; supranational policy analysis; and gender and disability rights were formed through her years of experience working as part of transnational disability-rights focused research teams.
I am delighted to endorse Dr. Bernasky's book!'
Professor Rachel da Silveira Gorman, Critical Disability Studies, York University, Canada