Book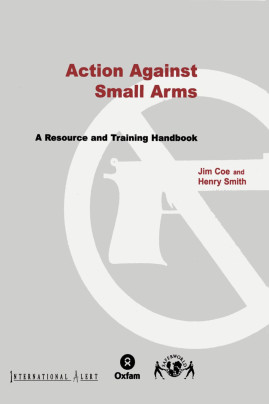 Action Against Small Arms
A resource and training handbook
Published: 2003
Pages: 218

eBook:
Paperback: 9780855984977
The uncontrolled spread and misuse of small arms and light weapons constitute a crisis of global proportions. They destroy both lives and livelihoods; they are a threat to peace and development, to democracy and human rights. Since the mid-1990s, civil-society groups and some progressive governments have begun to develop measures to combat the crisis. This handbook is a resource which draws together lessons from successful campaigns in many parts of the world. It is primarily designed to be a resource for civil-society organizations, but should also be of use to anyone seeking to develop more effective action against the spread and misuse of small arms. The book is divided into four main sections. Part one sets the policy context for action, giving a concise and informative survey of the major national, regional and international initiatives to combat the proliferation and abuse of small arms. Parts two and three provide a set of easily adaptable, practical tools and techniques to help with strategic planning and action, supported by case studies of positive impact achieved by activists around the world. Part four provides a directory of organizations currently working on the small-arms issue.
Preface

Part 1: The Policy Context

Part 2: Planning for Action

Part 3: Taking Action

Part 4: Contacts

Notes

Index
Henry Smith
Henry Smith is Head of Export controls and Small Arms at Saferworld. He has developed and delivered training and capacity-building programmes for civil-society organisations and government officials in Asia, Africa, Europe, and the Middle East.