Book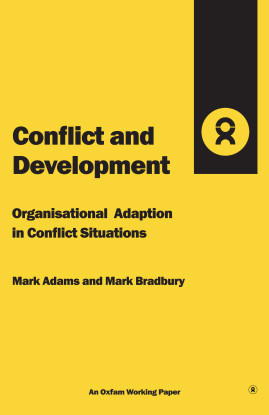 Conflict and Development
Organisational adaptation in conflict situations
Published: 1995
Pages: 75

eBook: 9780855986827
Paperback: 9780855983208
This paper was prepared as a background document for a workshop on Development in Conflict, held in Birmingham, UK, convened by ACORD, Birmingham University's School of Public Policy, and Responding to Conflict. The growing incidence of armed conflicts in Africa and Eastern Europe, and their devastating impact, has placed this issue at the forefront of policy debates on aid and development. The Birmingham workshop brought together development practitioners and policy analysts to share experience and consider the adaptations that organisations and institutions need to make when working in situations of armed conflict. Illustrated with extracts from case studies on the work of ACORD in Africa, the paper draws together current thinking on the causes and impacts of conflict, and suggests a series of questions which aid organizations working in situations of armed conflict need to address.
# Preamble;

# Acknowledgements;

1. The problem: trends in world conflicts;

2. The impact of armed conflict;

3. Understanding conflict;

4. The political analysis of conflict;

# 4.1: State-society conflicts;

# 4.2: Poverty and conflict;

# 4.3: The political economy of war;

5. Gender and conflict;

# 5.1:The personal sphere;

# 5.2:The private sphere;

# 5.3:The public sphere;

# 5.4:Conflict and power;

6. The turbulence of change;

# 6.1: Different perception a of change;

7. Responding to conflict;

# 7.1:Aiding conflicts;

# 7.2:Beyond the relief model;

8. 8.Organisational adaptation in conflict situations;

# 8.1: Development and conflict;

# 8.2: Working in conflict;

# 8.3:Post-conflict development: the price of peace;

# 8.4:Operational issues;

# 8.5:Advocacy and policy reform;

# 8.6:Thinking about conflict;

# Notes;

# Bibliography;

# Information on the organisations involved in the workshop
Mark Bradbury
Mark Bradbury is a social analyst and an experienced aid practitioner and researcher. He has lived and worked in Sudan and Somalia. His research has covered Somalia, Sudan, Sierra Leone, Kosovo, conflict and development, complex emergencies, conflict resolution, and human rights. He is Director of the Rift Valley Institute Horn of Africa Course.
Mind the gap: Documenting and explaining violence against aid workers
Fast, Larissa A.
European Journal of International Relations, Vol. 16 (2010), Iss. 3 P.365
https://doi.org/10.1177/1354066109350048
[Citations: 35]
Internationale Herausforderungen humanitärer NGOs
Sanktionen und Anti-Terror-Maßnahmen: Humanitäre Hilfe unter Stress
Settele, Karin
2021
https://doi.org/10.1007/978-3-662-62494-4_12
[Citations: 0]
The "Everyday Politics" of IDP Protection in Karen State
Hull, Stephen
Journal of Current Southeast Asian Affairs, Vol. 28 (2009), Iss. 2 P.7
https://doi.org/10.1177/186810340902800202
[Citations: 13]
Ebola Virus: From Medical Emergency to Complex Disaster?
Benini, Aldo A.
Bradford-Benini, Janet
Journal of Contingencies and Crisis Management, Vol. 4 (1996), Iss. 1 P.10
https://doi.org/10.1111/j.1468-5973.1996.tb00071.x
[Citations: 2]
The role of human resources in protecting expatriates: insights from the international aid and development sector
Fee, Anthony
McGrath-Champ, Susan
The International Journal of Human Resource Management, Vol. 28 (2017), Iss. 14 P.1960
https://doi.org/10.1080/09585192.2015.1137617
[Citations: 22]
Geographies of social exclusion: education access in the Philippines
Symaco, Lorraine Pe
Comparative Education, Vol. 49 (2013), Iss. 3 P.361
https://doi.org/10.1080/03050068.2013.803784
[Citations: 9]
War and ethnicity: Global connections and local violence in North East Africa and former Yugoslavia
Turton, David
Oxford Development Studies, Vol. 25 (1997), Iss. 1 P.77
https://doi.org/10.1080/13600819708424123
[Citations: 37]