Book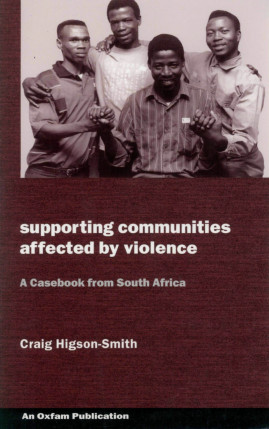 Supporting Communities Affected by Violence
A casebook from South Africa
Published: 2002
Pages: 160

eBook: 9780855988579
Paperback: 9780855984779
More than 15,000 people have been killed, and 500,000 displaced, during years of low-intensity civil war in the South African province of KwaZulu-Natal. This title describes the work of the KwaZulu-Natal Programme for Survivors of Violence (KZN-PSV), which (with the support of Oxfam) helps communities to grapple with the complex social, economic, political and psychological problems posed by the conflict. It outlines: a theoretical framework to guide NGO interventions; the application of this framework in work with children, youth, women and local leadership; and the principles of intervention in the work of KZN-PSV, and the fundamental elements that have contributed to its success. The framework is relevant to a broad range of societies which have been damaged by civil conflict.
Preface

The story of South Africa

The story of KwaZulu-Natal

Initial responses to the conflict in KwaZulu-Natal

Understanding civil violence

Plans into action: the process of intervention

Work with young people

Work with women

Work with children

Work with community leaders

Reflections on the work of the KwaZulu-Natal Programme for Survivors of Violence

Bibliography

Index.
Craig Higson-Smith
Craig Higson-Smith is an independent mental health care professional, in the Johannesburg Area, South Africa
The terror part of terrorism
Stamm, H.
Tuna, F.
Norris, F.H.
Piland, N.F.
Van Der Hart, O.
Fairbank, J.A.
Stamm, H.E.
Higson-Smith, C.
Barbanel, L.
Levant, R.F.
IEEE Engineering in Medicine and Biology Magazine, Vol. 23 (2004), Iss. 1 P.149
https://doi.org/10.1109/MEMB.2004.1297187
[Citations: 2]
Political Mobilisation and Rise of the Culture of Violence in South Africa Exploring the Root Causes
Pandey, Vimal Nayan
Insight on Africa, Vol. 4 (2012), Iss. 2 P.137
https://doi.org/10.1177/0975087814411153
[Citations: 2]
CONSIDERING A THEORY OF CULTURAL TRAUMA AND LOSS
STAMM, B. HUDNALL
STAMM, HENRY E.
HUDNALL, AMY C.
HIGSON-SMITH, CRAIG
Journal of Loss and Trauma, Vol. 9 (2004), Iss. 1 P.89
https://doi.org/10.1080/15325020490255412
[Citations: 31]