Book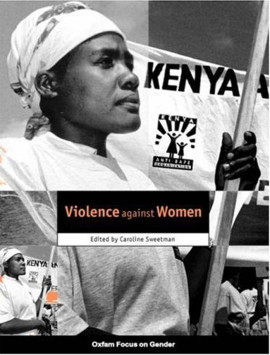 Violence against Women
Published: 1998
Pages: 72

eBook: 9780855988685
Paperback: 9780855984014
This is a collection of articles from development practitioners and feminist activists placing violence against women, both direct and indirect, in the context of development. Violence is both a human rights issue and an obstacle to women's participation in development. Writers here focus on campaigning and advocacy work as well as work with women who have experienced violence in countries including Russia, Guinea-Bissau and India. It includes accounts of work with women who have been sexually assaulted and those who have undergone cultural practices such as female genital mutilation and early marriage.
Editorial

Caroline Sweetman

Development practise and violence against women

Purna Sen

Working towards a world free from violence against women: UNIFEM'S contribution

Noeleen Heyzer

Forced marriage, forced sex: the perils of childhood for girls

Mariam Ouattara, Purna Sen, and Marilyn Thomson

'The tears have not stopped, the violence has not ended': Political upheavel, ethnicity, and violence against women in Indonesia

Galuh Kapur

'I am witness to ...'A profile of Sakshi Violence Intervention Centre, India

Aanchal Kapur

'Circumcision', culture, and health-care provision in Tower Hamlets, London

Joan Cameron and Karen Rawlings Anderson

Political change, rape, and pornography in post-apartheid South Africa

Teboho Maitse

Researching 'a family affair': Domestic violence in former Yugoslavia and Albania

Sarah Maguire

Interview: Tanya Lipovskaya talks about the Sisters Sexual Assault Recovery Centre, Moscow, Russia

Resources:

Compiled by Emma Bell

Books and Videos

Organisations

Campaigns

Web sites

Journals and reports

Index to volume.
Caroline Sweetman
Caroline Sweetman is Editor of the international journal Gender & Development and works for Oxfam GB.