Book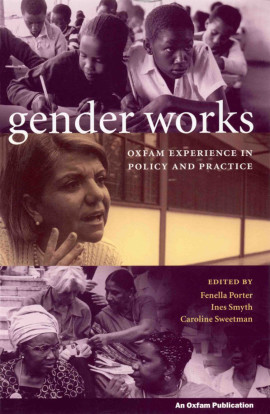 Gender Works
Oxfam experience in policy and practice
Published: 1999
Pages: 356

eBook: 9780855987572
Paperback: 9780855984076
Based on a participatory process involving many Oxfam GB staff, Gender Works gives a multi-faceted account of the organisation's attempt to intergrate gender issues into its work and culture over the past 15 years. It is an important book for development poliy-makers and practitioners as well as academic researchers. The 36 contributers include women and men from all over the world who work for or with Oxfam GB and other national Oxfams. Individual articles are short and to the point, reflecting the personal experiences of both managers and community-level workers. They cover the challenges of implementing Oxfam's innovative gender policy: of promoting gender-aware development and emergency work; of influencing organisational culture and of working with the international women's movement to promote gender equality.
* Preface

David Bryer

* Introduction

Fenella Porter, Ines Smyth, and Caroline Sweetman

* Timeline

1. The challenges of implementation

* Much ado about knitting: the experience of Bosfam (Bosnia)

Usha Kar

* Men in the kitchen, women in the office? Working on gender issues in Ethiopia

Feleke Tadele

* Gender concerns in emergencies

Fiona Gell

* Gender in times of war (El Salvador)

Martha Thompson

* Bringing it back home: Gender and poverty in the UK

Geraldine Terry

* Representative systems and accountability structures in refugee settlements in Ikafe, Uganda

Judy Adoko

* Mind the gap: How what we do differs from what we say (Burkina Faso)

Alice Iddi

* The spaces between the weave: Building alliances at the grassroots (Pakistan)

Maryam Iqbal

1. Organisational culture and procedures

* Changing the rules: Implementing a gender policy through organisational procedures

Bridget Walker

* Two steps forward, one step back: Experiences from Cambodia

Visha Padmanabhan

* Gender: Assessing the impact

Elsa Dawson

* A rose by any other name: Feminism in development NGOs

Ines Smyth

* Personal management in crisis: Experience from Afghanistan

Sue Emmott

* Rhetoric to reality: A psychological approach

Wendy Carson

* Setting up the Oxfam nursery

The editors with thanks to Norman Clift

3. The role of a specialist team

* Chronicle of a death fortold: The birth and death of Oxfam GB's Gender and Development Unit

Suzanne Williams

* GADU remembered: Some reflections on the early years

Tina Wallace

* Fairytales and feminism: Volunteering in the Gender Team

Alison Farrell

* Middle-aged man seeks gender team

Chris Roche

4. Working at different levels

* Regional cohesion and gender in the Middle East programme

Lina Abu-Habib and Omar Traboulsi

* The experience of Beijing from a Zambian perspective

Lucy Muyoyeta

* Women's Eyes on the World Bank: Intergrating gender equity into advocacy work

Lydia Williams

* Gender and diversity in Oxfam international

Ellen Sprenger and Diane Biray Gregorio

* Harmonising gender and development: The GAD fund in South Africa

Penny Plowman and Josette Cole

* Gender means doing things differently: Lessons from Oxfam's Women's Linking Project

Candida March

* Participation and management in Soutgh Asia:Gender transformation in the AGRA South network

Kanchan Sinha

5. Building capacity

* From the slipstream to the mainstream: Incorporating gender into The Oxfam Handbook of Development and Relief

Deborah Eade

* The 'cutting edge' of practice? Publishing, gender, and diversity in Oxfam GB

Caroline Sweetman

* Making visible the invisible: the work of the gender resource centre

Sue Smith

* A history of gender training in Oxfam

Jan Seed

* Academic reality: From theory to practice

Rajni Khanna

* Gender training for policy implementers: Only a partial solution

Fenella Porter and Ines Smyth

* Appendix: Gender and development - Oxfam's policy for its programme
Fenella Porter
Fenella Porter lectures in development at Birkbeck College, University of London. She has been an activist and researcher on development and gender, with NGOs and women's organizations in Africa and the UK.