Book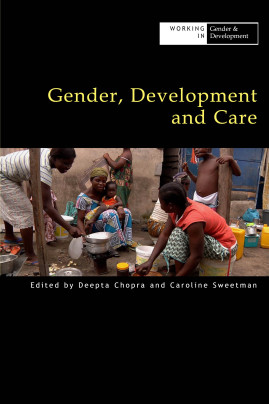 Care is a social good; it not only sustains and reproduces society, but also underpins all development progress. Yet the vast majority of care work is done free, at home; and it is widely seen as a female responsibility. This gender division of labour has profound implications for women and girls – both in terms of their daily lives and options, and their status in society. Writers in this issue explore women's experience of care work in different contexts from a feminist perspective, highlighting the impact that care work has for their lives, choices and wellbeing. The goal is for care work to be divided fairly between the sexes, and between the household and other social institutions, including the state.
1. Introduction to gender, development and care

2. What is a transformative approach to care, and why do we need it?

3. What does care have to do with human rights? Analysing the impact on women's rights and gender equality

4. Public policies on water provision and early childhood education and care (ECEC): do they reduce and redistribute unpaid work?

5. Policy advocacy for women's unpaid care work: comparing approaches and strategies in Nepal and Nigeria

6. Not 'women's burden': how washing clothes and grinding corn became issues of social justice and development

7. Transforming gender roles in domestic and caregiving work: preliminary findings from engaging fathers in maternal, newborn, and child health in Rwanda

8. Valuing unpaid labour in community Fair Trade products: a Nicaraguan case study from The Body Shop International

9. Caring for people with intellectual disabilities in poor rural communities in Cambodia: experience from ADD International

10 Resources for gender, development and care
'Offering compelling new research evidence and conceptualization, Gender, Development and Care lays out a radical, transformative approach to care that we can all get behind. The book draws on human rights and social justice principles to urge development policymakers and practitioners to finally take care seriously.'
Gina Crivello, PhD, Senior Researcher, Department of International Development, University of Oxford

'This collection represents a stellar contribution to a new galaxy of research on gender, care, and development. It provides both a clear theoretical framework and a wide variety of fascinating, detailed, policy-relevant applications.'
Nancy Folbre, Director, Program on Gender and Care Work, Political Economy Research Institute, University of Massachusetts Amherst.

Deepta Chopra Deepta Chopra is a Research Fellow at the Institute of Development Studies.
Caroline Sweetman was previously Editor of the international journal Gender & Development.