Book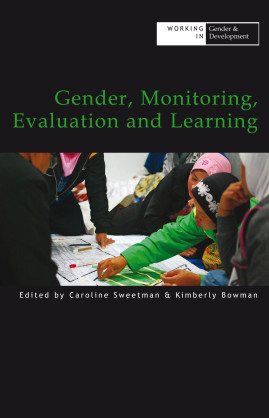 How much have development programmes supported women in their daily lives, and in their struggles for equality and justice? Important though it is for development interventions to be accountable to funders, they are equally responsible to the women and men with whom they work. Monitoring and evaluation tools are needed, therefore, to examine the effects of development and humanitarian work on women's empowerment and gender equality.

Gender, Monitoring, Evaluation and Learning explores the tools and approaches used by different organizations to monitor women's economic empowerment, incidence of violence against women and girls and other aspects of women's empowerment. Contributors include experienced practitioners from organizations such as CARE, IRC, Oxfam, Helvetas and Womankind Worldwide.

1. Introduction to Gender, Monitoring, Evaluation and Learning

2. Building capacity to measure long-term impact on women's empowerment: CARE's Women's Empowerment Impact Measurement Initiative

3. A review of approaches and methods to measure economic empowerment of women and girls

4. Still learning: a critical reflection on three years of measuring women's empowerment in Oxfam

5. Reflections on Womankind Worldwide's experiences of tackling common challenges in monitoring and evaluating women's rights programming

6. Capturing changes in women's lives: the experiences of Oxfam Canada in applying feminist evaluation priciples to monitoring and evaluation practice

7. A survivor behind every number: using programme data on violence against women and girls in the Democratic Republic of Congo to influence policy and practice

8. Learning about women's empowerment in the context of development projects: do the figures tell us enough?

9. Using the Social Relations Approach to capture complextiy in women's empowerment: using gender analysis in the Fish on Farms project in Cambodia

10. Resources
'This publication is very timely as it provides a well-articulated framework for integrating gender equality and women's empowerment into development evaluation. The different chapters help to "square the circle" by addressing all of the methodological, political, organizational and ideological factors that affect the design and implementation of an effective gender-responsive evaluation strategy. It combines a review of gender-responsive tools and techniques, and reviews of different evaluation approaches that development agencies are currently using, with detailed case studies documenting experiences using different evaluation approaches. The publication will prove useful both to readers concerned with gender-responsive evaluation, as well as to those who are concerned with broader issues of how to improve the general practice of development evaluation.'

Michael Bamberger, independent development evaluation consultant

Caroline Sweetman was previously Editor of the international journal Gender & Development.
Kimberly Bowman Kimberly Bowman is the Team Manager for Oxfam GB's Programme Quality Team. She has worked on monitoring, evaluation and learning (MEL) of campaigns and of Women's Economic Empowerment programming in Oxfam.