Book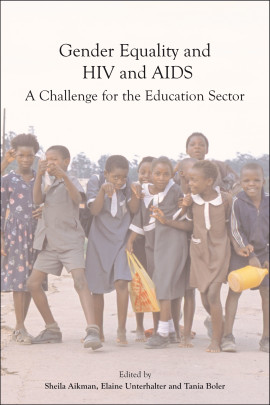 The book shows that while gender inequalities in society generally, and particularly within the education sector, are driving aspects of the HIV epidemic, educational settings can be empowering and bring about change. It examines different expectations of what HIV education programmes and education settings can do to transform unequal gender relations and protect young people against HIV and AIDS and contribute to care for those affected and infected. It warns that an uncritical acceptance that education is a social vaccine protecting young people from HIV infection can be misleading and demonstrates that, to be effective, HIV and AIDS education must be based on a sensitive understanding of social and cultural context and the complexities of young people's lives. The book illustrates the importance of democratic learning environments informed by evidence-based policy, implemented with leadership for transforming deeply held values and beliefs regarding sexual behaviour and sexuality.
Acknowledgements

List of contributors

Introduction Sheila Aikman, Elaine Unterhalter, and Tania Boler

Part 1: Gender,Education, and HIV – Mapping the Challenges

1 Essentialism, equality, and empowerment: concepts of gender and schooling in the HIV and AIDS epidemic Elaine Unterhalter, Tania Boler, and Sheila Aikman

2 Girls' education and vulnerability to HIV infection in Africa James Hargreaves and Tania Boler

3 Gender inequality in primary education in the context of HIV and AIDS: a challenge for Uganda Doris M.Kakuru

4 Violence against girls: are schools doing enough to protect them against HIV and AIDS? Fiona Leach

5 The gendered impact of AIDS on orphans and education in KwaZulu-Natal, South Africa Tania Boler

Part 2:Building the Evidence Base to Meet the Challenges

6 The road less travelled: gender-based interventions in the education-sector response to HIV David Clarke

7 'One finger cannot kill a louse' – working with schools on gender, sexuality, and HIV in rural Zambia Gill Gordon

8 Mobilising care: accounts of gender equality, schooling, and the HIV epidemic in Durban, South Africa Elaine Unterhalter,Amy North,Robert Morrell,Deevia Bhana,Debbie Epstein , and Lebo Moletsane

9 Development, gender, HIV and AIDS, and adult education: challenges in Thailand Usa Duongsaa

10 Engaging the community to promote gender equity among young men: experiences from 'Yari Dosti' in Mumbai Sujata Khandekar,Mahendra Rokade,Vilas Sarmalkar,Ravi K.Verma,Vaishali Mahendra, and Julie Pulerwitz

11 Building multi-sectoral partnerships to deliver gendered HIV education in schools: the Nigerian experience Omokhudu Idogho

Conclusion: HIV and AIDS and gender – the challenges for empowerment and change Sheila Aikman, Elaine Unterhalter, and Tania Boler

Index
Sheila Aikman Sheila Aikman has worked with a wide range of NGOs from community-based and regional federations of indigenous peoples in South America to international NGOs such as the International Work Group for Indigenous Affairs, Copenhagen, and Oxfam GB where she held the post of Global Education Policy Adviser prior to joining UEA and DEV in March 2008.
Elaine Unterhalter Elaine Unterhalter is a reader in Education and International Development at the Institute of Education, University of London. Together with Sheila Aikman she co-ordinates the 'Beyond Access: Gender, Education and Development' project. Her books include Gender, Schooling and Global Social Justice (Routledge, 2006), Beyond Access (with Sheila Aikman, Oxfam, 2005) and Amartya Sen's Capability Approach and Social Justice in Education (with Melanie Walker, Palgrave, 2007).
Tania Boler Tania Boler is Head of Research at Marie Stopes International, an international NGO specialising in sexual and reproductive health. Prior to this, she was at UNESCO and ActionAid where she researched and published extensively on the education sector response to HIV and AIDS. Her books include The Politics of Prevention: A Global Crisis in AIDS and Education (with David Archer, 2008, Pluto Press).
Education, Poverty and Global Goals for Gender Equality
Exchanges around global gender equality and education policies in South Africa, 1991–2016
Unterhalter, Elaine
North, Amy
2017
https://doi.org/10.4324/9781315104225-6
[Citations: 0]
A combination intervention addressing sexual risk-taking behaviors among vulnerable women in Uganda: study protocol for a cluster randomized clinical trial
Ssewamala, Fred M.
Sensoy Bahar, Ozge
Tozan, Yesim
Nabunya, Proscovia
Mayo-Wilson, Larissa Jennings
Kiyingi, Joshua
Kagaayi, Joseph
Bellamy, Scarlett
McKay, Mary M.
Witte, Susan S.
BMC Women's Health, Vol. 19 (2019), Iss. 1
https://doi.org/10.1186/s12905-019-0807-1
[Citations: 12]
Perspectives on HIV/AIDS stigma and discrimination: voices of some young people in Ghana
Oduro, Georgina Yaa
Otsin, Mercy
Sex Education, Vol. 13 (2013), Iss. 2 P.146
https://doi.org/10.1080/14681811.2012.678941
[Citations: 4]
Research in adult education and lifelong learning in the era of CONFINTEA VI
Preece, Julia
International Journal of Lifelong Education, Vol. 30 (2011), Iss. 1 P.99
https://doi.org/10.1080/02601370.2011.538180
[Citations: 16]
Gender inequity in the lives of women involved in sex work in Kampala, Uganda
Mbonye, Martin
Nalukenge, Winifred
Nakamanya, Sarah
Nalusiba, Betty
King, Rachel
Vandepitte, Judith
Seeley, Janet
Journal of the International AIDS Society, Vol. 15 (2012), Iss. 3(Suppl 1)
https://doi.org/10.7448/IAS.15.3.17365
[Citations: 12]
Approaching Southern theory: explorations of gender in South African education
Epstein, Debbie
Morrell, Robert
Gender and Education, Vol. 24 (2012), Iss. 5 P.469
https://doi.org/10.1080/09540253.2012.711036
[Citations: 44]