Book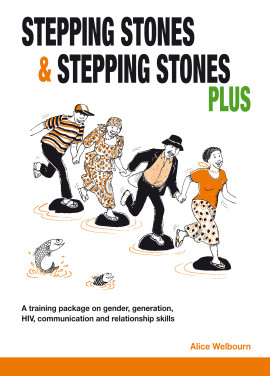 Stepping Stones and Stepping Stones Plus
A training package on gender, generation, HIV, communication and relationship skills
Published: 2016
Pages: 400

eBook: 9781780448916
Paperback: 9781853398926
People with HIV can now live long, healthy and productive lives as long as they have timely access to medication when they need it, combined with care, love, respect and support. Stepping Stones and subsequently Stepping Stones Plus were manuals that grew out of a need to counter the prejudice and fear surrounding HIV, and to foster strong and mutually respectful relationships, free from violence and without sexually transmitted infections or unplanned pregnancies. Stepping Stones is recognized by WHO, UNAIDS, USAID and many others as one of the few global interventions to reduce intimate partner violence, now recognized as a key cause and consequence of HIV for women globally. Now combined into a single manual and revised and updated, Stepping Stones and Stepping Stones Plus is a training package designed to help trainers and community members organize a workshop. The training is with young and older women and men, separately and together, to explore their social, sexual and psychological needs, to overcome their communication blocks, and to practise ways of enriching their relationships. The workshop sessions help individuals, peers and their communities move step by step to change behaviours and to build healthy relationships. The manual and an optional DVD describe how to organize the workshop and run structured exercises involving role play and other participatory methods of group learning. Workshop sessions are held mostly in four separate peer groups, based on self-identified age and gender groupings, with some larger meetings. The optional DVD consists of 15 short clips designed to provide participants with a springboard for discussion during the different sessions of the workshop. Stepping Stones and Stepping Stones Plus is essential reading for social workers, community workers, health workers, NGO staff and people living with HIV working on HIV-related community programmes; also researchers and academics teaching and advising in this field.
NOTE not for sale from this publisher in Uganda and Tanzania
Before you begin ...!
First open community meeting
Theme One – Group cooperation
Session A: Let's communicate
Session B: Our perceptions
Session C: What is love?
Session D: Our prejudices
Theme Two – HIV and safer sex
Session E: HIV
Session F: Condoms and male circumcision
Theme Three – Why we behave in the ways we do
Session G: Our options
First full workshop meeting
Session H: Let's look deeper:
Part 1
Session I: Let's look deeper:
Part 2
Session J: Let's support ourselves
Theme Four – Ways in which we can change
Session K: Let's assert ourselves
Session L: Let's change ourselves
Second full workshop meeting
Session M: Let's work together
Session N: Let's prepare for the future
Second open community meeting
Theme Five – Moving forward together
Session O: What happened next?
Session P: Nurturing common ground: Promoting care and support amongst partners, families and the wider community
Session Q: Supporting mothers and their children: Our community's future in their hands
Session R: Accepting HIV within the family: Supporting family members who are living with HIV
Further open community meeting
Annexes Annex 1: Notes on role plays and tableaux
Annex 2: Technical notes on using DVD
Annex 3: Synopsis of DVD Clips

Alice Welbourn
Alice Welbourn PhD is a researcher, trainer and global activist on gender, HIV and rights. She is former chair of the International Community of Women living with HIV/AIDS (ICW), has been honoured with many awards in the field ans is Founding Director of the Salamander Trust.