Book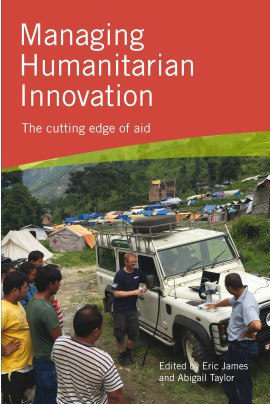 Managing Humanitarian Innovation
The cutting edge of aid
Published: 2018
Pages: 172

eBook: 9781780449531
Paperback: 9781853399541
Hardback: 9781853399534
The challenges facing humanitarian logistics are huge. Refugee camps present enormously challenging environments in which sudden spikes in demand, difficult to access locations, disruptions due to conflict or disasters, as well as normal supply chain problems are commonplace. This means that orders for medical and other supplies can take weeks and sometimes months to fulfil, severely impeding humanitarian operations. There is also a lack of or slow adoption of technology routinely used elsewhere. In addition, humanitarian logistics are also expensive. When customs clearance, transportation, storage, middlemen and administration are added in, the costs of basic items are often exorbitant.
Managing Humanitarian Innovation presents a new approach that is beginning to transform the way humanitarian logistics are conducted. Innovation in logistics includes disrupting and improving supply chains through the use of technology, especially 3D printers, and engaging people to manage this approach. The book discusses what innovation is, and strategies for supporting it; it describes practical innovations and how they have been applied; and it outlines how innovation labs can be run. Finally it covers how to fund innovation and it suggests how humanitarian innovation might develop in the future.
This book brings together the real experience of practitioners who have made innovation work. It is a collaborative work written by and for the community of people involved in humanitarian innovation, in particular in the making and manufacturing of humanitarian supplies. The book is full of practical and actionable points of value to the humanitarian community.
Managing Humanitarian Innovation is essential reading for humanitarian practitioners as well as volunteers and others involved in humanitarian supplies provision. It is equally helpful to thought leaders, policy makers and educators.

Cover (page 1)
Title Page (page 4)
Copyright Page (page 5)
Table of Contents (page 6)
List of Tables, Figures, and Photos (page 9)
Acronyms (page 10)
Preface (page 12)
Acknowledgements (page 13)
About the editors (page 14)
Part I: Setting the context (page 16)
1. Introduction: Key concepts and definitions (page 18)
2. A humanitarian innovation primer (page 26)
3. The potential of innovation: Relief aid of the future (page 36)
Part II: Understanding humanitarian innovation and the challenges it raises (page 40)
4. How change happens and the process of humanitarian innovation (page 42)
5. Problems and potential (page 60)
6. Innovation lifecycle and the missing middle (page 66)
7. Complexity theory and humanitarian relief (page 76)
8. Knowing for the twenty-first century: Reflexivity and rigour (page 84)
Part III: Organizing humanitarian innovation (page 90)
9. The leadership and management of innovation (page 92)
10. Understanding change: How does change happen? (page 104)
11. Ethical and responsible use of ICT (page 108)
12. Building partners for innovation (and resilience) (page 114)
13. Influencing innovation adoption using the matrix of influence (page 126)
Part IV: Lessons from the frontline (page 130)
14. Additive manufacturing and humanitarian aid (page 132)
15. Humanitarian innovation labs: Bridging innovators and humanitarian challenges (page 148)
16. Lessons learned from the Nepal innovation lab (page 158)
17. Turning a conversation into an opportunity (page 166)
18. Collaboration and the importance of process (page 172)
19. Three-stage design process (page 178)
20. Design identification: Planting the seeds of empathy (page 182)
21. Open-source 3D printing (page 186)
22. Piloting 3D printing technology to increase access to prosthetic devices (page 192)
23. Opportunities and challenges in the HELIOS project (page 198)
24. The Tao of extreme making (page 204)
25. Field Ready: Transforming aid worldwide (page 208)
Part V: Summary and challenges for the future (page 214)
26. Q&A with experts in humanitarian innovation (page 216)
27. Concluding thoughts on humanitarian innovation (page 224)
Useful tools and techniques for humanitarian innovation (page 228)
Annexes (page 248)
1. The principles for ethical humanitarian innovation (page 248)
2. UNICEF's principles for innovation and technology in development (page 250)
3. Technology readiness levels: This is ready … or is it? (page 252)
4. Measuring creativity (page 254)
5. Innovation-management readiness assessment (page 256)
6. Useful links and websites (page 258)
Glossary (page 260)
Index (page 264)
Back Cover (page 274)

'The authors have done a really excellent job in drawing together leading experts across a broad range of innovations that are already being implemented in the "for profit" world and demonstrating how these could be successfully employed to improve the effectiveness and efficiency of humanitarian preparation and response activities.'
Peter Tatham, Professor of Humanitarian Logistics, Griffith Business School, Griffith University, Australia

'Never before in the history of modern humanitarian action has there been such a compelling case for bringing together the abiding values and objectives of humanitarianism with profoundly transformative innovation and innovative practices. Managing Humanitarian Innovation not only captures that conceptual need, but also provides a clear and practical road map for meeting that need.'
Randolph Kent, PhD, Visiting Professor, African Leadership Centre, King's College London

'The humanitarian profession is going through a dramatic transformation, with new technologies, players, and approaches being introduced on a seemingly daily basis. Managing Humanitarian Innovation boldly takes stock of these changes and offers readers new conceptual frameworks and practical tools that are designed to make the most use of these emerging opportunities in the service of people most in need during disasters. Based on real case studies and forward looking, this is a 'must read' for aid workers, donors, government officials, and innovators drawn to the humanitarian calling.'
Nicholas Haan, VP of Impact and Faculty Chair of Global Grand Challenges, Singularity University

'It is rare that one find a book on humanitarian aid that is relevant to both academic and practitioner audiences. Managing Humanitarian Innovation does an excellent job giving insights and practical solutions to both audiences. Even more important it is inspirational and helps further the important discourse on innovation – one of the most important policy and operational areas facing humanitarian aid today.'
Kirsten Gelsdorf, Director of Global Humanitarian Policy and Professor, University of Virginia. Former Chief of Policy Analysis and Innovation, UNOCHA

'This book sets a new standard for combining theory and practice with a view of what's to come. It weaves together direct experience on-the-ground, unique ways of thinking and pathways to achieving extraordinary results. Eric and the various contributors have achieved this knowledge far from cosy institutes, but by being directly involved in the mud and sweat of humanitarian crises. It will surely be an inspiration for the pioneering approaches so badly needed in our sector.'
Giorgio Trombatore, Country Director, South Sudan, Relief International
Eric James Eric James is co-Founder of Field Ready, an NGO focused on innovating for improved ways of providing relief. He has nearly two decades working in humanitarian relief, including in Afghanistan, Albania, Burundi and Liberia. Working in a number of different positions ranging from programme manager and logistician to Country Director, he has covered nearly every facet of NGO programming, management and training.
Abigail Taylor Abigail Taylor is a strategic advisor for the consulting firm Spark Strategy. She has developed considerable experience in business development and partnership management in Europe, Africa, and, more recently, Asia.