Book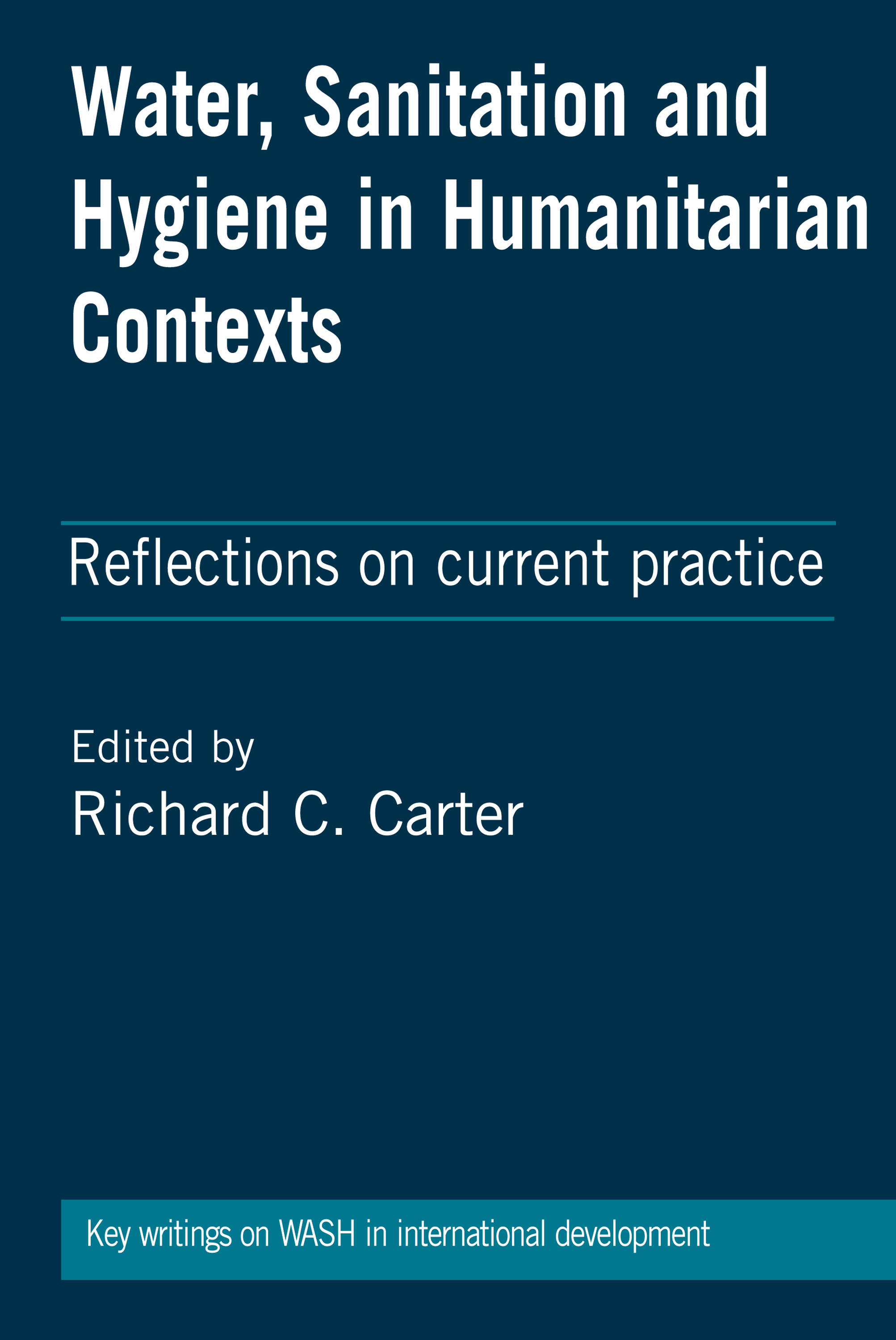 Water, Sanitation and Hygiene in Humanitarian Contexts
Reflections on current practice
Published: 2015
Pages: 150

eBook: 9781780448831
Hardback: 9781853398834
Paperback: 9781853398841
Earthquakes, tsunamis, floods, droughts, disease outbreaks as well as conflicts are all crises that result in death as well as profound disruption to those left behind, and to those communities who shelter them. Among the most urgent interventions are those to provide water, sanitation and hygiene (WASH) to affected communities. Water, Sanitation and Hygiene in Humanitarian Contexts presents contributions on the changing field of humanitarian WASH response and questions research and practice in this field. What are the research gaps in WASH response? What are the most effective means of providing clean water in different settings? How are the latest innovations in emergency sanitation performing? How can women's menstrual hygiene needs best be met in humanitarian situations?
The chapters address a wide range of WASH subjects, in a variety of geographical settings and are written by experienced practitioners and researchers. The approach of the book is straightforward and practical, with little theory – the focus being on improving professional practice in the midst of humanitarian suffering.
This book is written for those whose everyday work involves humanitarian response to WASH needs in emergencies and disasters, but it is also aimed at development professionals from the WASH and other sectors, including researchers and practitioners.

1 Introduction: Humanitarian WASH
Richard C. Carter
2 Point-of-use water treatment in emergency response
Daniele Lantagne and Thomas Clasen
3 Water, sanitation, and hygiene in emergencies: summary review and recommendations for further research
Joe Brown, Sue Cavill, Oliver Cumming and Aurelie Jeandron
4 Water and wastes in the context of the West African Ebola outbreak: turning uncertain science into pragmatic guidance in Sierra Leone
Richard C. Carter, J. Peter Dumble, St John Day, and Michael Cowing
5 Menstrual hygiene management in humanitarian emergencies: gaps and recommendations
Marni Sommer
6 Bulk water treatment unit performance: for the cameras or the community?
Richard Luff and Caetano Dorea
7 Innovative designs and approaches in sanitation when responding to challenging and complex humanitarian contexts in urban areas
Andy Bastable and Jenny Lamb
8 Biodegradable bags as emergency sanitation in urban settings: the field experience
Francesca Coloni, Rafael van den Bergh, Federico Sittaro,Stephanie Giandonato, Geneviève Loots and Peter Maes
9 Urban armed conflicts and water services
Jean-François Pinera
10 Sanitation for all! Free of cost in emergencies
Marco Visser
11 Conclusions
Richard C. Carter

'WASH (Water, Sanitation and Hygiene) is a crucial component of humanitarian response. This book is a very useful compilation of lessons from experience in WASH from a range of highly experienced and qualified practitioners in the field, compiled by Richard Carter, one of the most respected experts. It also indicates some useful recommendations for how WASH in emergencies can be improved, including the highlighting of some major gaps, such as the transition from emergency response to longer term recovery. It will be of interest to emergency WASH practitioners and those involved (or preparing to be involved) in humanitarian action.
Bobby Lambert, co-author of Engineering in Emergencies and consultant in humanitarian action

'Essential reading! A mine of useful and useable information for anyone working within the complexity of disaster situations. Richard Carter and his colleagues bring rich experiences and insights concerning water, sanitation and hygiene in crisis conditions to both general and experienced readers.'
Ian Davis is Visiting Professor in Disaster Risk Management in Copenhagen, Lund, Kyoto and Oxford Brookes Universities

'Water, Sanitation and Hygiene in Humanitarian Contexts is absolutely right at the heart of the main water, hygiene and sanitation challenges in emergencies.'
Jean-Francois Fesselet, WatSan unit Coordinator, MSF