Book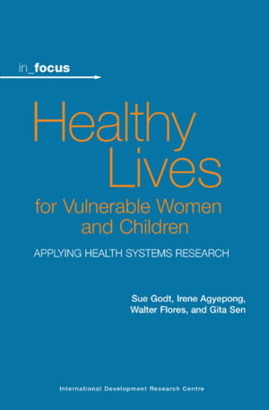 Tremendous challenges remain to ensure that the most vulnerable populations, including women, children, and adolescents, are able to enjoy the healthy lives and well-being promised in the Sustainable Development Goals. Much of their poor health is caused by poverty, gender, lack of education, and social marginalization as well as inaccessible healthcare services. Strong, equitable, and well-governed health systems can contribute to sustainably improving their lives.

But building strong health systems is challenging. This book draws on 15 years of IDRC-funded health systems research undertaken by researchers working closely with communities and decision-makers. They have generated contextually relevant evidence at local, national, regional, and global levels to tackle these entrenched health systems challenges. Six lessons have been distilled to inform and inspire a new generation of health leaders and researchers while some critical reflections on the remaining challenges are shared with others in the global health community, including funding organizations.

Executive Summary

Foreword

Preface

Part 1. The issues and the development context

Part 2. IDRC's approach to supporting health systems research

Part 3. Using health systems research to build healthy lives

Part 4. Lessons learned and looking forward

Part 5. Looking forward: Seizing a window of opportunity

Glossary of terms and abbreviations

Endnotes

Sources and resources
Sue Godt
Sue Godt is Senior Program Officer with the Maternal and Child Health program at Canada's International Development Research Centre.
Irene Agyepong
Irene Agyepong is a Public Health Specialist with the Research and Development Division, Ghana Health Service.
Walter Flores
Walter Flores is Director at Centro de Estudios para la Equidad y Gobernanza en Sistemas de Salud in Guatemala.
Gita Sen
Gita Sen is Distinguished Professor and Director of the Ramalingaswami Centre on Equity and Social Determinants of Health, Public Health Foundation of India.