Book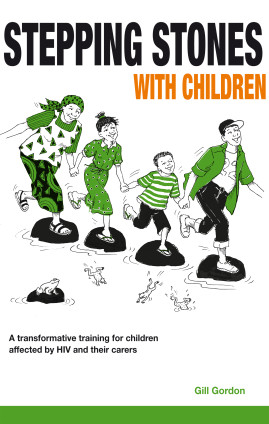 Stepping Stones with Children
A transformative training for children affected by HIV and their caregivers
Published: 2016
Pages: 450

eBook: 9781780448930
Paperback: 9781853398940
Acquiring HIV may no longer be a death sentence, but its effects are still profound. Many people living with HIV face rejection and are unsure about their futures, and these anxieties may be felt all the more keenly by children and young people. Stepping Stones with Children equips organizations and individuals with materials with which they can engage children affected by HIV and their caregivers, using powerful exercises to convey information, explore norms, discover their abilities, and individually and jointly create stronger ways of being.
The training sessions cover a wide range of topics with a gendered and child-rights focused framework including psycho-social wellbeing and resilience, assertiveness, bereavement, HIV testing, living well with HIV, preventing sexual abuse, and supporting survivors of abuse. They cover issues facing all young people growing up, which might be particularly challenging for those affected by HIV – from friendships at school, to relationships, sexuality, and livelihoods.
Each of the sessions clearly explains its overall purpose, and sets out the aim and method for each activity. Most activities are carried out with the participants working in their three separate peer groups of younger children (5-8 year olds), older children (9-14 year olds) and caregivers. Sometimes each peer group works in gendered-sub groups. The three peer groups sometimes work together, or come together to share what they have learned and to negotiate new ways of relating to one another.
Stepping Stones with Children follows on from Stepping Stones and Stepping Stones Plus, which are training materials widely used in workshops with older youth and adults affected by HIV. All of these manuals are coordinated by the Salamander Trust, a registered charity that encourages all users of Stepping Stones materials to join its International Community of Practice (CoP), enabling users to link and learn from each other. Find out more at: https://salamandertrust.net/
Stepping Stones with Children is essential reading for social workers, community workers, health workers and NGO staff working on programmes with people affected by HIV; also researchers and academics teaching and advising in this field. View a collection of films about the Stepping Stones with Children programme: https://vimeo.com/showcase/3822203
NOTE not for sale from this publisher in Uganda and Tanzania
About the authors

Acknowledgments

Abbreviations and acronyms

Stepping Stones with Children Book 1

Introduction

Session 1: Getting started

Session 2: Using our brains

Session 3: Gender and sex

Session 4: Child rights and sexual and reproductive rights

Session 5: The tree of life

Session 6: How to be assertive

Session 7: All about virtues

Session 8: The power of love

Session 9: Bringing out the best in each other

Session 10: Coping with loss and the tree of love

Session 11: Understanding death and coping with our feelings

Session 12: All about HIV

Session 13: Testing for HIV and talking about it

Session 14: Living well with HIV

Session 15: Partners in health care

Stepping Stones with Children Book 2

Session 16: Friendship

Session 17: Going to school

Session 18: Managing alcohol and other drugs

Session 19: When we are growing up

Session 20: Relationships, love and sex

Session 21: Our sexual feelings and sexual safety

Session 22: Pornography

Session 23: Delaying, starting, and stopping having sex

Session 24: All about condoms

Session 25: Children by choice not chance

Session 26: Protecting each other from sexual abuse

Session 27: Supporting survivors of sexual abuse

Session 28: Learning and contributing

Session 29: Livelihoods
'This is a very important manual for children and caregivers. It will help support the building of closer relationships through meaningful communication that helps children and caregivers overcome barriers and build a close and supportive family unit.'
Martha Tholanah, Global Chair, International Community of Women Living with HIV/AIDS

'Programmes and manuals like Stepping Stones with Children can make the difference for a human being between a healthy development and a vision of a world with possibility, and in the most extreme cases life overshadowed by death.'
L'Orangelis Thomas, a young woman living with HIV

Gill Gordon
Gill Gordon has over 30 years' experience of working in the development sector, and is a social development and health promotion specialist with particular expertise in gender, sexuality, reproductive health (and its integration with HIV), community-based participatory approaches and curriculum development .
What will it take to achieve the sexual and reproductive health and rights of women living with HIV?
Dunaway, Keren
Brion, Sophie
Hale, Fiona
Alesi, Jacquelyne
Assan, Happy
Chung, Cecilia
Moroz, Svitlana
Namiba, Angelina
Ouma, Joyce
Owomugisha, Immaculate B
Ross, Violeta
Strachan, Sophie
Tholanah, Martha
Yuvaraj, Anandi
Welbourn, Alice
Women's Health, Vol. 18 (2022), Iss. P.174550572210803
https://doi.org/10.1177/17455057221080361
[Citations: 1]