Book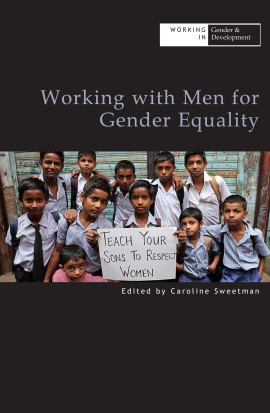 Working with Men for Gender Equality
Series: Working in Gender & Development
Published: 2019
Pages: 188

eBook: 9781780448664
Paperback: 9781788530484
Hardback: 9781788530477
Working with men on gender equality is essential to challenge patriarchal constraints that men experience in their own lives. Authors here share experience of working with men to question traditional ideas about masculinity. Men rejecting these norms are not only happier, but are also critical allies with women in struggles for gender equality. Feminist work by men, with men, is a critical part of gender-transformative development.
1. Introduction: working with men for gender equality

2. 'I can do women's work': reflections on engaging men as allies in women's economic empowerment in Rwanda

3. Promoting male involvement in family planning in Vietnam and India: HealthBridge experience

4. 'Before the war, I was a man': men and masculinities in the Eastern Democratic Republic of Congo

5. Sympathetic advocates: male parliamentarians sharing responsibility for gender equality

6. 'Because I am a man, I should be gentle to my wife and my children': positive masculinity to stop gender-based violence in a coastal district in Vietnam

7. Domestic violence prevention through the Constructing Violence-free Masculinities programme: an experience from Peru

8. 'One Man Can': shifts in fatherhood beliefs and parenting practices following a gender-transformative programme in Eastern Cape, South Africa

9. Whose turn to do the dishes? Transforming gender attitudes and behaviours among very young adolescents in Nepal

10. Where the boys are: engaging young adolescent boys in support of girls' education and leadership

11. Men's involvement in gender equality – European perspectives

12. Resources
'This is an extremely interesting and timely book, given the pressing need to ensure the realisation of substantive gender equality as a cornerstone of social justice and sustainable development. Drawing on diverse examples from initiatives around the world, the book highlights both the potential for and importance, or indeed necessity, of involving men and boys, alongside women and girls, in addressing gender inequalities and promoting and ultimately achieving gender equality, for the good of all.'
Helen Longlands, UCL Centre for Education and International Development (CEID), UCL Institute for Education, University College London
Caroline Sweetman was previously Editor of the international journal Gender & Development.