Book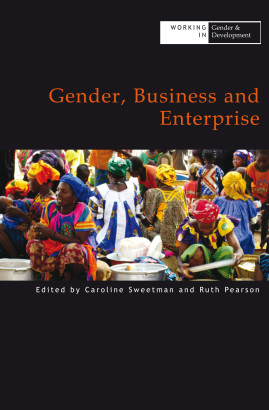 Business and enterprise should support gender justice and women's rights, but the reality is most women worldwide barely earn enough for survival. Why are women producers more likely than men to live hand-to-mouth, trapped in the least profitable and powerful parts of the economy? And what strategies – by development organisations, the business sector, governments and women's movements – can help change this? Contributions from feminist activists, development researchers and workers here focus on collective forms of enterprise to maximise co-operation between poor women entrepreneurs, women workers' rights and corporate accountability, gender and Fair Trade, and women's economic empowerment.
1. Introduction to Business and Enterprise

2. Women producers and the benefits of collective forms of enterprise

3. Shampoo, saris and SIM cards: seeking entrepreneurial features at the bottom of the pyramid

4. Workers' rights and corporate accountability – the move towards practical, worker driven change for sportswear workers in

Indonesia

5. Women's entrepreneurship development initiatives in Lebanon: micro achievements and macro-gaps

6. The Markets for Afghan Artisans approach to women's economic empowerment

7. 'Show the world to women and they can do it': Southern Fair Trade Enterprises as agents of empowerment

8. Fair Trade and organic certification in value chains: lessons from a gender analysis from coffee exporting in Uganda

9. Beyond participation: making enterprise development really work for women

10. Expanding women's role in Africa's modern off-grid lighting market: enhancing profitability and improving lives

11. Resources
'This collection of articles illustrates the critical role of enterprise and the complex nature of enterprise ecosystems in achieving women's economic and social empowerment. For development practitioners working with women-owned micro-businesses or large multi-national corporations that employ women in large numbers, the challenges, opportunities, risks and rewards cannot be underestimated, and are captured here in a set of interesting case studies.'
Linda Jones , MEDA
Caroline Sweetman was previously Editor of the international journal Gender & Development.
Ruth Pearson Ruth Pearson is Professor of International Development at the University of Leeds and is researching gender and work in the global economy. She is the author of several books and many articles.