Book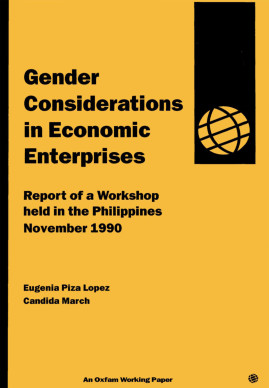 Gender Considerations in Economic Enterprises
Report of a workshop held in the Philippines November 15/12/1990
Eugenia Piza-Lopez, Candida March
Published: 1991
Pages: 42

eBook: 9780855987343
: 9780855981891
Income-generation projects are often seen as an effective way of working with women. However, in reality, many economic enterprises fail to make a profit for their participants and simple increase women's workload and stress. Their failure is often a consequence of inaccurate conceptions about women's work and use of time. In November 1990, Oxfams Gender and Development Unit, together with the Women's Research and Resources Centre, organised a workshop for Oxfam staff based in Asia. The aim was to discuss the diverse approaches to working with women on income-generation projects in the region and to devise ways of appraising and monitoring projects, in a country programme context, which would enable them to be more successful in fulfilling their objectives of improving the overall situation of their participants. This account of the workshop includes case-studies of projects with a summary of the ensuing discussions and useful checklists for planning and evaluating projects. There is also an assessment of the lessons which emerged from the workshop. This highlights the importance of talking and listening to women; of taking a more holistic approach, which enables women to appraise their wider situation and to articulate a gender based assessment of their needs; of viewing economic enterprise projects as a means of strengthening social organisation and empowering communities; and of supporting women in their other roles in order to enable them to participate more effectively in economic enterprises.
# ntroduction: Main points arising from the workshop

1. Objectives and methodology of the workshop

2. The Lessons Learnt: A holistic approach

3. The Lessons Learnt: Project Design

4. Papers presented at the workshop

# Annexes

A: Women's development indicators

B: Key questions to consider when designing and implementing and evaluating economic enterprises for women

C: Definition: Womens practical and strategic needs
Eugenia Piza-Lopez
Eugenia Piza Lopez is the Team Leader for the Crisis Prevention and Disaster Preparedness Programme of the UNDP Pacific Sub-Regional Centre working on disaster preparedness, risk reduction, conflict prevention and recovery issues. Eugenia also worked for Oxfam GB for nine years as Social Development Adviser for Asia, Head of the Gender and Development Unit and as Senior Policy Adviser in charge of policy advocacy towards the United Nations.
Candida March
Candida March is currently Chair at Metro Safety and Associate Coach at One Life Partnership.