Book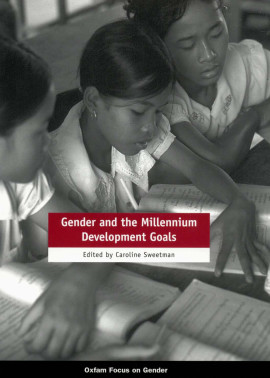 Gender and the Millennium Development Goals
Published: 2005
Pages: 112

eBook: 9780855987329
Paperback: 9780855985509
This collection of articles focuses on the Millennium Development Goals from a gender perspective. It examines the strengths and weaknesses of this way of understanding and addressing poverty, and suggests ways of strengthening the approach by using key insights and approaches associated with the thirty-year struggle to establish and uphold the rights of women. Contributions to this volume include articles on women's rights, health, and education. Among the authors are Naila Kabeer, Noeleen Heyzer, Ceri Hayes, and Peggy Antrobuus.
Editorial

Making the Links: Women's Rights and Empowerment are Key to Achieving the Millennium Development Goals: Noeleen Heyzer

The Education MDGs: Achieving gender equality through curriculum and pedagogy change: Sheila Aikman, Elaine Unterhalter and Chloe Challender

Not a sufficient condition:the limited relevance of the gender MDG to women's progress: Robert Johnson

Major Distraction Gimmicks? A view of the MDGs from the Caribbean: Peggy Antrobus

Gender equality and women's empowerment: a critical analysis of the third Millennium Development Goal: Naila Kabeer

Out of the Margins: The MDGs Through a CEDAW Lens: Ceri Hayes

Where to for Women's Movements and the MDGs? : Carol Barton

Linking women's human rights and the MDGs: an agenda for 2005 from the UK Gender and Development Network (GADN): Genevieve Renard Painter for the GAD Network

Approaches to reducing Maternal Mortality: Oxfam and the MDGs: Arabella Fraser

Resources
Caroline Sweetman was previously Editor of the international journal Gender & Development.
Género, desarrollo y políticas públicas: La doble discrepancia de las aristas del poder
Kauffer, Edith
Regions and Cohesion, Vol. 6 (2016), Iss. 2 P.13
https://doi.org/10.3167/reco.2016.060203
[Citations: 1]
Gender equality under the Millennium Development Goals: What options for sub-Saharan Africa?
Olowu, Dejo
Agenda, Vol. 26 (2012), Iss. 1 P.104
https://doi.org/10.1080/10130950.2012.674281
[Citations: 2]
Re‐thinking the "Feminization of Poverty" in Relation to Aggregate Gender Indices
Chant, Sylvia
Journal of Human Development, Vol. 7 (2006), Iss. 2 P.201
https://doi.org/10.1080/14649880600768538
[Citations: 129]
Accountability and MDGs: Methodology for Measuring Government Performance for Global Goals
Fukuda-Parr, Sakiko
Greenstein, Joshua P.
(2011)
https://doi.org/10.2139/ssrn.2211587
[Citations: 2]
Women's Human Rights
Engendering socio-economic rights
Fredman, Sandra
2013
https://doi.org/10.1017/CBO9781139540841.011
[Citations: 1]
Two decades of jurisprudence on substantive gender equality: What the Constitutional Court got right and wrong
Stone, Lee
Agenda, Vol. 30 (2016), Iss. 1 P.10
https://doi.org/10.1080/10130950.2016.1189239
[Citations: 0]