Book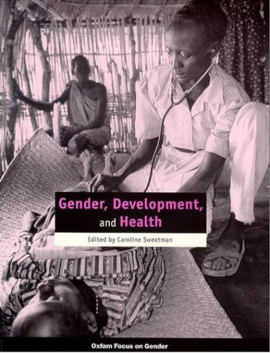 Gender, Development and Health
Published: 2001
Pages: 80

eBook: 9780855987398
Paperback: 9780855984564
What are the differences between women's and men's experiences of health, sickness and health care? How does our gender identity affect our physical and mental wellbeing? Despite improvements in health indicators in many countries, developing countries are currently facing a health crisis. New diseases like HIV and drug-resistant strains of diseases including malaria, pneumonia and tuberculosis, are spreading. Many people in developing countries have never had access to formal medical services. Others have lost their access due to reductions in public spending as a result of structural adjustment policies, international debt repayments and the de-prioritisation of health against other sectors. This book argues that two fundamental changes are needed if both women and men are to achieve better health. The first of these is to ensure equal access to all the resources that men and women need for healthy minds and bodies: not only to medical care, but to food, water, shelter, a source of income and a sense of control over ones life. The second is to ensure that health services and resources enable women and men to meet all their physical and mental health needs. Articles included here focus on understandings of reproductive health; integrating gender issues into infectious disease prevention; the impact of HIV/AIDS on women; working with communities to promote health and on the monitoring and evaluation of health projects from a gender perspective.
Editorial

Caroline Sweetman

The reproductive health of refugees: lessons beyond ICPD

Colette Harris and Ines Smyth

The meaning of reproductive health for developing countries: the case of the Middle East

Huda Zurayk

Environment, living spaces, and health: compound-organisation practices in a Bamako squatter settlement, Mali

Paule Simard and Maria De Koninck

Safe motherhood in the time of AIDS: the illusion of reproductive 'choice'

Carolyn Baylies

Danger and opportunity: responding to HIV with vision

Kate Butcher and Alice Welbourn

Strengthening grandmother networks to improve community nutrition: experience from Senegal

Judi Aubel, Ibrahima Toure', Mamadou Diagne, Kalala Lazin, El Hadj Alioune Sene, Yirime Faye, and Mouhamadou Tandia

Teaching about gender, health, and communicable disease: experiences and challenges

Rachel Tolhurst and Sally Theobald

Attitudes towards abortion among medical trainees in Mexico City public hospitals

Deyanira Gonzalez de Leon Aguirre and Deborah L. Billings

Enhancing gender equity in health programmes: monitoring and evaluation

Mohga Kamal Smith

Resources

Compiled by Erin Murphy Graham

Publications

Organisations

Electronic Resources

Videos

Courses
Caroline Sweetman
Caroline Sweetman is Editor of the international journal Gender & Development and works for Oxfam GB.
Is the Push for Gender Sensitive Research Advancing the SDG Agenda of Leaving No One Behind?
Cochrane, Logan
Rao, Nitya
Forum for Development Studies, Vol. 46 (2019), Iss. 1 P.45
https://doi.org/10.1080/08039410.2018.1427623
[Citations: 8]
FOOD INSECURITY IN BUHAYA: THE CYCLE OF WOMEN'S MARGINALIZATION AND THE SPREAD OF POVERTY, HUNGER, AND DISEASE
Githinji, Valerie
NAPA Bulletin, Vol. 32 (2009), Iss. 1 P.92
https://doi.org/10.1111/j.1556-4797.2009.01030.x
[Citations: 2]