Book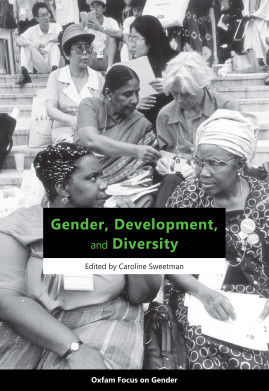 Gender, Development, and Diversity
Published: 2004
Pages: 92

eBook: 9780855987381
Paperback: 9780855985318
Each one of us lives life as a carrier of multiple identities - including gender, race, class and age. The sum of these identities determines our opportunities in life, and empowers or disempowers us, depending on our context. This collection of articles focuses on the implications that this has for development goals of poverty alleviation and human rights. In particular, critiques from Southern women challenge development organisations for their inadequate and inappropriate policy and practice. Development programmes have addressed gender inequality as a key concern, but most organisations have yet to understand how other aspects of difference intersect with gender to unite and divide groups of women from each other. Improving development policy and practice means understanding inequality in its complexity, and developing ways of working which acknowledge difference, rather than suppress it. It means practising as we preach, by transforming our own organisational cultures. This entails confronting issues of power and inequality, and challenging racism, sexism and other forms of discrimination. Contributors to this issue include Ranjani K Murthy, Everjoice Win, and Dorine Plantenga. Case studies come from India, Zimbabwe, Latin America and the UK.
Editorial

Caroline Sweetman

Organisational strategy in India and diverse identities of women: bridging the gap

Ranjani K.Murthy

When sharing female identity is not enough: coalition building in the midst of political polarisation in Zimbabwe

Everjoice J. Win

Microfinance from the point of view of women with disabilities: lessons from Zabia and Zimbabwe

Cindy Lewis

Gender, identity, and diversity: learning from insights gained in transformative gender training

Dorine Plantenga

Promoting cultural diversity and the rights of women: the dilemmas in 'intersectionality' for development organisations

Liesbeth van der Hoogte and Koos Kingma

Diversity in Oxfam GB: engaging the head and turning the heart

Bimla Ojelay-Surtees

Poverty reduction policy responses to gender and social diversity in Uganda

Dereje Wordofa

Empowerment through activism: responding to domestic violence in the South Asian community in London

Aisha Gill and Gulshun Rehman

Resources

Compiled by Erin Leigh

Publications

Journals

Electronic resources

Briefing papers and tools

Organisations

Conferences
Caroline Sweetman
Caroline Sweetman is Editor of the international journal Gender & Development and works for Oxfam GB.
How to Develop Diversity Management Competencies in the Private Sector in Saudi Arabia
Alfalih, Abdullah Abdulmohsen
SAGE Open, Vol. 12 (2022), Iss. 2 P.215824402211024
https://doi.org/10.1177/21582440221102448
[Citations: 0]
Factors influencing the implementation of diversity management in business organisations in a transition economy. The case of Slovakia
Lančarič, Drahoslav
Chebeň, Juraj
Savov, Radovan
Economic Research-Ekonomska Istraživanja, Vol. 28 (2015), Iss. 1 P.1162
https://doi.org/10.1080/1331677X.2015.1100837
[Citations: 5]
APPLYING THE CONCEPT OF DIVERSITY MANAGEMENT IN ORGANISATIONS IN THE CZECH REPUBLIC AND THE SLOVAK REPUBLIC – A RESEARCH SURVEY
Egerova, Dana
Jiřincova, Milena
Lančarič, Drahoslav
Savov, Radovan
Technological and Economic Development of Economy, Vol. 19 (2013), Iss. 2 P.350
https://doi.org/10.3846/20294913.2013.798598
[Citations: 9]
Legitimacy of Unseen Actors in International Adjudication
Arbitral Institutions' Response to Perceived Legitimacy Deficits
Polonskaya, Ksenia
2019
https://doi.org/10.1017/9781108641685.019
[Citations: 0]
An analysis of western diversity management theories in a Nigerian context
Loliya, Agbani Akobo
Journal of African Studies and Development, Vol. 9 (2017), Iss. 4 P.23
https://doi.org/10.5897/JASD2016.0424
[Citations: 3]