Book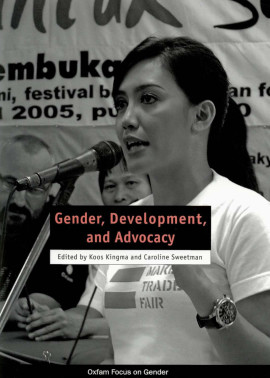 Advocacy for gender equality occurs at all levels of society--from grassroots women demanding community-level change to sophisticated coalition-building that promotes change to international trade laws. Articles in this collection chart the experience, challenges, and successes of gender equality advocates from area including Pakistan, Australia, and southern Africa.
Editorial

1. Advocacy training by the International Community of Women Living with HIV/AIDS A guide to feminist advocacy

2. Politics at work: transnational advocacy networks and the global garment industry

3. The African Women's Protocol: a new dimension for women's rights in Africa

4. Advocacy for an end to poverty, inequality, and insecurity: feminist social movements in Pakistan

5. Gender networking and advocacy work in Uganda: controlling the agenda and strategies of resistance

6. A voice of our own: advocacy by women with disability in Australia and the Pacific

Resources

Publications

Websites

Electronic resources

Organisations
Koos Kingma Her working experiences: Mali: working with the CMDT on rural development and gender issues Tanzania: working with an agricultural research institute as an advisor on socio-economics (mainstreaming gender, improving linkages between farmers-extension-research) Netherlands: working for Oxfam Novib: programme officer for West Africa and policy advisor on gender.
Caroline Sweetman was previously Editor of the international journal Gender & Development.
Advocacy as a Strategy for Social Change: A Qualitative Analysis of the Perceptions of UN and Non-UN Development Workers
Fayoyin, Adebayo
Journal of Social Sciences, Vol. 35 (2013), Iss. 2 P.181
https://doi.org/10.1080/09718923.2013.11893158
[Citations: 2]