Book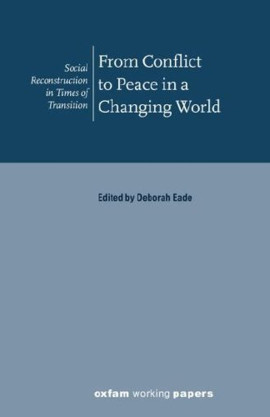 From Conflict to Peace in a Changing World
Published: 1998
Pages: 146

eBook: 9780855987244
Paperback: 9780855983956
This Working Paper reproduces articles and essays which first appeared in the quarterly journal Development in Practice. The first part features papers by scholars, agency representatives, practitioners, and policy-makers on the ethical and legal dimensions of humanitarian endeavour. The second part comprises a collection of original essays which were commissioned from some of the highly experienced practitioners in the field of development and conflict who attended the 1996 Symposium entitled Building Bridges in Southern Africa: Conflict, Reconstruction, and Reconciliation in Times of Change, which was co-sponsored by the Centre for the Study of Violence and Reconciliation (CSVR) and Oxfam's South Africa Office. The two sections address conflict-related themes from a range of perspectives, and together paint an informative picture of the moral and practical complexities of crisis and intervention.Contributors include Michel Chossudovsky, Jenny Pearce, Hugo Slim, Juan Somavia, and Derek Summerfield. The paper concludes with an annotated bibliography, listing current and classic publications on the subject of development work in the context of crisis and armed conflict.
Preface: Deborah Eade

1. Relief agencies and moral standing in war: principles of hunanity, neutrality, impartiality, and solidarity - Hugo Slim

2. The humanitarian responsibilities of the United Nations Security Council: ensuring the security of the people - Juan Somavia

3. For better? For worse? Humanitarian aid in conflict - David Bryer and Edmund Cairns

4. Dismantling former Yugoslavia, recolonising Bosnia - Michel Chossundovsky

5. Non-neutral Humanitaranism: NGOs and the Rwanda crisis - Andy Storey

6. Guatemala: uncovering the past, recovering the future - Elizabeth Lira

7. Assisting survivors of war and atrocity: notes on 'psychosocial' issues for NGO workers - Derek Summerfield

8. Tensions in the psychological discourse: implications for the planning of interventions with war-affected populations - Alastair Ager

Papers from a Symposium

1. Building Bridges in southern Africa:conflict, reconstruction and reconciliation in times of change.

2. Sustainable peace-building in the south: experience from Latin America - Jenny Pearce

3. Translation in El Salvador: a multi-layered process - Martha Tompson

4. Rwanda: beyond 'ethnic conflict' - Anne Macinosh

5. Reconstruction and reconciliation: emergeing from transition - Graeme Simpson

6. Collective memory and the process of recociliation and reconstruction - Wiseman Chirwa

7. Reconciliation: the role of truth commissions and alternative ways of healing - Noel Muchenga Chicuecue

8. Reconciliation in Zimbabwe: real or illusion? - Val Ingham-Thorpe

9. Physical, psycological, and political displacement in Angola and Mozambique - Francisco Tunga Alberto

10. Child Soldiers: the Experience of the Mozambican Association for Public Health [AMOSAPU] Viriato Castelo-Branco

11. Training for Peace - Glenda Caine

12. Change and continuity: the challenge of Transition - Deborah Eade

13. Conflict, Reconstruction, and reconciliation: reciprecol lessons for NGOs in Southern Africa and Central America - Martha Thompson

Annotated bibliography
Deborah Eade Deborah Eade was Editor-in-Chief of Development in Practice from 1991 to 2010, prior to which she worked for 10 years in Latin America. She is now an independent writer on development and humanitarian issues, based near Geneva.