Book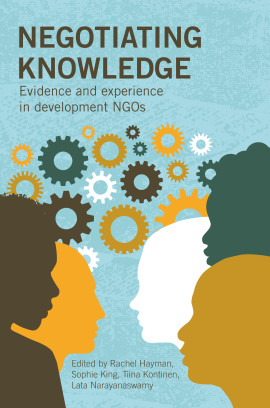 International NGOs are increasingly under pressure from governments and the public to demonstrate evidence of impact and positive results. This book critically examines how development NGOs working around the world create knowledge and evidence, and use it to satisfy donors, to improve their practices, and to further our understanding of poverty. It asks questions such as: does the evidence of community organizations count as much as higher-level organizations? Should southern NGOs be expected to disseminate pre-formed development 'messages'? What do we mean by 'evidence-based advocacy'?

The eight studies that form the core of Negotiating Knowledge span scholarly and practitioner research across Africa, Asia and Latin America. They tackle political issues that determine what forms of evidence and knowledge are given credence. They explore the power dynamics that shape the value placed on knowledge and learning in relationships within and between organizations.

Negotiating Knowledge urges NGOs to examine how they use knowledge in order to make it work better for themselves and for the people that they aim to assist. To do this well, they have to understand better what they mean by knowledge and evidence, revisit the value that they place on learning and knowledge, and invest in appropriate capacity and skills.

This book is essential reading for international NGO staff, policy makers, as well as those researching, studying and making policy in international development.

List of figures, table, and boxes

About the authors

Preface

1. Introduction: Why do NGOs need to negotiate knowledge?

Sophie King, Tiina Kontinen, Lata Narayanaswamy and Rachel Hayman

2. What do we mean by evidence-based advocacy? Ideas from NGOs in Malawi

Kate Gooding

3. What sense does it make? Vocabularies of practice and knowledge creation in a development NGO

Tiina Kontinen

4. Legitimacy and knowledge production in NGOs

Erla Thrandardottir

5. Knowledge and conditional participation of civil society organizations in India's urban governance regime

Swetha Rao Dhananka

6. Research for development alternatives: inter-elite relations and grass-roots knowledge in Western Uganda

Sophie King with Christopher Busiinge

7. Progress towards effective knowledge sharing in an NGO

Kai Matturi

8. 'I have not seen a single person use it': NGOs, documentation centres and knowledge brokering in development

Lata Narayanaswamy

9. NGOs and the evidence-based policy agenda

Rachel Hayman

10. Conclusion: negotiating knowledge, evidence, learning and power

Rachel Hayman, with Sophie King, Tiina Kontinen, Lata Narayanaswamy

Index
'Are you maker, shaper, user or victim? Think again, as you absorb eight not-so-plain tales of knowledge, evidence and power in the shadowy jungle of NGOs and development, guided by helpful reflections from the book's worldly-wise editors.'
James Copestake, Professor of International Development, University of Bath, UK

'This book provides much-needed illumination on two key, but often poorly understood, concepts within the development sector: knowledge and evidence. Importantly, this book uses accessible examples of efforts by both national and international NGOs to improve their generation and use of knowledge. The fact that these case studies contain both positive and negative outcomes is particularly useful. The book also helpfully outlines some of the critical challenges for NGOs in this area of generating knowledge and evidence, such as low resourcing, and a tendency of NGOs only to communicate information which reflects positively on their work. Overall this book challenges NGOs to take a much more systematic approach in order to fulfil their goals for internal learning and policy influencing -- a welcome and important challenge.'
Sinead Walsh, Ambassador of Ireland to Sierra Leone and Liberia

'In a world dominated by homogeneous strategies of global development, gathering the evidence for growing inequality, dispossession and ecological disaster is a political struggle. Knowledge democracy is critical for re-building democratic and inclusive societies. This book provides practical and systematic approaches to negotiating multiple perspectives on knowledge to support struggles for a more just and equal world.'
Rajesh Tandon, UNESCO Chair in Community Based Research & Social Responsibility in Higher Education

'This is a super book, which could not be more timely for scholars and practitioners alike in its smart but accessible analysis of "knowledge" in international development. It draws on a wealth of experience and insight to make a series of powerful interventions in debates over the nature, value and politics of development knowledges.'
Emma Mawdsley, Reader in Human Geography, University of Cambridge

'Negotiating Knowledge offers timely and valuable insights as development practitioners seek to improve evaluative thinking and collaborative learning. This book brings important empirical evidence for practitioners who strive to engender positive lasting change in all their engagements with local constituents, staff and partners.'
Isabella Jean, Co-Director Collaborative Learning, CDA Collaborative Learning Projects, Cambridge, MA

'NGOs are having to change and recreate themselves to face future challenges. The way they use knowledge is key to this process. As the analysis in Negotiating Knowledge highlights, this is not just about having access to knowledge, but how we engage with and actively use knowledge. This book is a very useful and insightful collection of readings. It offers real insights into the theoretical debates and practical aspects of how NGOs can mobilize evidence and share knowledge to achieve wider development goals.'
John Hailey, Professor NGO Management, Cass Business School, City, University of London

'Negotiating Knowledge unrepentantly dissects the well-received orthodoxy of "better knowledge leads to better results". With NGOs increasingly pressed to prove their legitimacy and value in the new international development ecosystem, this book shows that their use of knowledge and evidence to buttress their role is a harder task by the day. Knowledge and evidence do have multiple sources, forms, values and purposes in the challenging contexts where NGOs operate; they also have consequences. Negotiating Knowledge is a rare clinical exploration of the tensions, pitfalls, risks and struggles confronting NGOs, as these generate, use and share knowledge and evidence to advance their mission – a provocative must-read for practitioners, donors, researchers and policymakers alike.'
Luc J.A. Mougeot, Technology and Innovation, International Development Research Centre, Canada

Rachel Hayman Dr Rachel Hayman is Head of Research at INTRAC (). She holds a PhD in African Studies from the University of Edinburgh, where she worked for several years before moving into a role at INTRAC that bridges academic, policymaking, and practitioner sectors.
Sophie King Dr Sophie King is Research Fellow within the Centre for Urban Processes, Resilient Infrastructures, and Sustainable Environments (UPRISE) at the School of the Built Environment, University of Salford. Her research focuses on relationships between marginalized communities and governments.
Tiina Kontinen Dr Tiina Kontinen is a Senior Lecturer on a Master's Degree Programme for Development and International Cooperation at the University of Jyväskylä, Finland. Her research revolves around civil society in development, knowledge production in development NGOs, and North–South partnerships.
Lata Narayanaswamy Dr Lata Narayanaswamy is a Lecturer in International Development at the School of Politics and International Studies (POLIS) at the University of Leeds. Her research interrogates how knowledge is both understood and operationalized in development theory and practice.
Negotiating effectiveness in transnational advocacy evaluation
Arensman, Bodille
van Wessel, Margit
Evaluation, Vol. 24 (2018), Iss. 1 P.51
https://doi.org/10.1177/1356389017733210
[Citations: 7]
Rethinking research partnerships: Evidence and the politics of participation in research partnerships for international development
Fransman, Jude
Newman, Kate
Journal of International Development, Vol. 31 (2019), Iss. 7 P.523
https://doi.org/10.1002/jid.3417
[Citations: 14]
Beyond partnerships: embracing complexity to understand and improve research collaboration for global development
Fransman, Jude
Hall, Budd
Hayman, Rachel
Narayanan, Pradeep
Newman, Kate
Tandon, Rajesh
Canadian Journal of Development Studies / Revue canadienne d'études du développement, Vol. 42 (2021), Iss. 3 P.326
https://doi.org/10.1080/02255189.2021.1872507
[Citations: 4]
Can We Know Better?
CHAPTER 6: Knowing for a better future
Chambers, Robert
2017
https://doi.org/10.3362/9781780449449.006
[Citations: 0]
Managing relationships in qualitative impact evaluation of international development: QuIP choreography as a case study
Copestake, James
Allan, Claire
Bekkum, Wilm van
Belay, Moges
Goshu, Tefera
Mvula, Peter
Remnant, Fiona
Thomas, Erin
Zerahun, Zenawi
Evaluation, Vol. 24 (2018), Iss. 2 P.169
https://doi.org/10.1177/1356389018763243
[Citations: 4]
Can We Know Better?
CHAPTER 3: Lenses and lock-ins
Chambers, Robert
2017
https://doi.org/10.3362/9781780449449.003
[Citations: 0]
Researching translation and interpreting in Non-Governmental Organisations
Tesseur, Wine
Translation Spaces, Vol. 7 (2018), Iss. 1 P.1
https://doi.org/10.1075/ts.00001.tes
[Citations: 7]
Universities, NGOs, and civil society sustainability: preliminary lessons from Ecuador
Appe, Susan
Barragán, Daniel
Development in Practice, Vol. 27 (2017), Iss. 4 P.472
https://doi.org/10.1080/09614524.2017.1303035
[Citations: 12]
Putting Knowledge to Work
CHAPTER 1: Introduction: Knowledge for civil society in the rapidly changing ecosystem for international development
Mougeot, Luc J.A.
2017
https://doi.org/10.3362/9781780449586.001
[Citations: 3]
Attributing Development Impact
CHAPTER 2 Comparing the QuIP with other approaches to development impact evaluation
Copestake, James
2019
https://doi.org/10.3362/9781780447469.002
[Citations: 1]