Book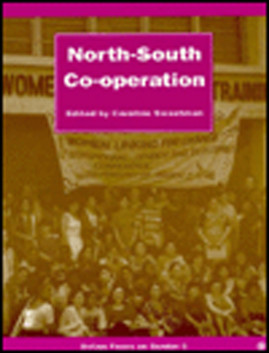 North-South Co-operation
Published: 1995
Pages: 94

eBook: 9780855988074
Paperback: 9780855983000
This book looks at co-operation for development: between North, South, and East; women's organizations and funding agencies; development practitioners, academics, and civil society; politicians and economists; and men and women. Currently the world is in a state of economic and political crisis, of which escalating conflict is a symptom. In this book, writers from South and North stress that such crisis can only be resolved if we recognise that we are all involved in a global system which perpetuates poverty and inequality, not only in the South and East, but also in the North. The book explores how essential it is for Northern funding agencies to foster multiculturalism and gender equality within their own structures, as well as in their work with Southern counterparts.
* Editorial

* Women and poverty: making global links

o The globalization of the economy - an international gender perspective

Wendy Harcourt

o Building Alliances - a Southern perspective

Devaki Jain

* Linking for solidarity

o Scotching myths - SEAD's experience in North-South co-operation

Linda Gray

o Invisible threads - Oxfam's Bridge programme

Rachel Wilshaw

o Women Linking for Change - Oxfam's Women's Linking Project

Oxfam Gender Team

* Listening to the South

o Southern women's networks - their own priorities

Abantu for development

o Of borders, bridges and sisterhood - reflections on the Women's Linking Project

Gertrudes Ranjo-Libang

o Declaration from Southern women's organizations presented at the Women's Linking for Change Conference, Bangkok

o Towards international solidarity - British initiatives through Brazilian eyes,

Vanete Almeida

* Women, participation, and international fora

o International lobbying for change: a Northern view of North-South linking

Mary van Lieshout

o Facilitating women's participation in UN conferences - the experience of WEDO

WEDO staff writers

o Treading new paths: the methodology of the "Women Linking for Change" Conference

Maria Suarez Toro

o Breaking down the barriers - European and Chinese women linking

Nicola Mcbean

* Working with existing partners

o Breaking the patriarchal alliance - governments, bilaterals and NGOs

Sara Hlupekile Longwe

o Implementing Gender Issues in multilaterals - the experience of the World Bank

Minh Chau Nguyen, Anjana Bushan and Jo Bischoff

* Feminising the work culture

o Feminising the workplace - how can organizations respond

Kokila Parthasarathy

o A woman's approach to North-South co-operation

Carola Carbajal

* Resources

o Book review

o Further reading

o Organisations working on co-operation

o Index
Caroline Sweetman
Caroline Sweetman is Editor of the international journal Gender & Development and works for Oxfam GB.