Book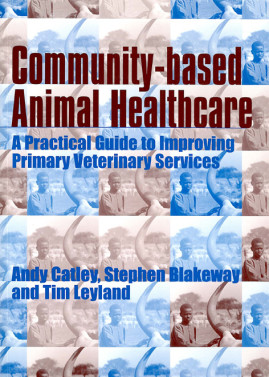 Community based approaches to improving animal health have been evolving for many years. Numerous organisations and institutions, including government veterinary services, are now beginning to implement community-based animal health projects in order to provide basic veterinary services in rural areas. However, both governmental and non-governmental organisations can lack experience of community-based animal health systems and, to date, there are few publications available to guide them. This book is a how to do it manual covering all aspects of community-based animal health work. The book is designed for animal health professionals at field-level, though will also be relevant to policy makers, donors and veterinary training institutes. The book will draw on the experiences of community-based animal health projects implemented by government and NGOs during the last twenty years and will relate to on-going structural reform of veterinary services in developing countries. The book aims to provide practical guidance for the design and management of community-based animal health services and, in particular, will focus on issues related to sustainability and linkages between basic level workers, private veterinarians and state veterinary services.
Prelims (Contents, Acknowledgements, Abbreviations)

1. Introduction to the guide

Andy Catley

2. Getting started

David Hadrill, Andy Catley and Karen Iles

3. Taking a long-term perspective: sustainability issues

Andy Catley, Tim Leyland and Boniface Kaberia

4. Participative training approaches and methods

Karen Iles

5. How to design and implement training courses

Karen Iles

6. Monitoring and assessment of community-based animal health projects

Andy Catley

7. Community-based animal health workers and disease surveillance

Jeffrey C. Mariner

8. The rules of the game and how to influence policy

John Young and John Woodford

9. Sharing experiences and networking

Stephen Blakeway

Back Matter (Contributors, Further Reading, Index)
Andy Catley Andy Catley is a veterinarian with experience of primary-level veterinary services and participatory research in the Horn of Africa. He currently works for the International Institute for Environment and Development, and the Organisation of African Unity/Inter-Africa Bureau for Animal Resources.
Stephen Blakeway Stephen Blakeway is a veterinarian who managed ITDG's (now Practical Action's) community-based animal health work in Kenya in the early 1980s. Since then, he has supported numerous projects in Africa and Asia while also developing his interests in animal welfare and human-animal interactions. He is currently based in the United Kingdom and works for Vetwork UK and the People's Dispensary for Sick Animals.
Tim Leyland Tim Leyland is a veterinarian who introduced community-based animal health services into Afghanistan and southern Sudan. Through his current post at the Organisation of African Unity/Inter-Africa Bureau for Animal Resources, he provides technical support to government and NGOs for the development of community-based systems in pastoralist areas of East Africa and the Horn of Africa. This work includes advisory roles at both field-level and national policy-level.
Improving animal health for poverty alleviation and sustainable livelihoods
Stringer, Andy
Veterinary Record, Vol. 175 (2014), Iss. 21 P.526
https://doi.org/10.1136/vr.g6281
[Citations: 17]
Normes et directives pour l'aide d'urgence à l'élevage (LEGS)
CHAPITRE 5 Normes techniques relatives au soutien vétérinaire
2017
https://doi.org/10.3362/9781780446745.005
[Citations: 0]
Factors associated with spatial clustering of foot-and-mouth disease in Nepal
Chhetri, Bimal K.
Perez, Andres M.
Thurmond, Mark C.
Tropical Animal Health and Production, Vol. 42 (2010), Iss. 7 P.1441
https://doi.org/10.1007/s11250-010-9573-7
[Citations: 19]
Promoting discussions and decisions about dogs' quality-of-life
Yeates, J. W.
Mullan, S.
Stone, M.
Main, D. C. J.
Journal of Small Animal Practice, Vol. 52 (2011), Iss. 9 P.459
https://doi.org/10.1111/j.1748-5827.2011.01094.x
[Citations: 17]
Transboundary Animal Diseases in Sahelian Africa and Connected Regions
Public and Private Veterinary Services in West and Central Africa: Policy Failures and Opportunities
Abakar, Mahamat Fayiz
Kallo, Vessaly
Yacoub, Adam Hassan
Souleyman, Alhadj Mahamat
Schelling, Esther
2019
https://doi.org/10.1007/978-3-030-25385-1_5
[Citations: 0]
Normas y directrices para intervenciones ganaderas en emergencias (LEGS)
CAPÍTULO 5 - Normas técnicas para el apoyo veterinario
2016
https://doi.org/10.3362/9781780449197.006
[Citations: 1]
Animal Welfare in Veterinary Practice
References
2013
https://doi.org/10.1002/9781118782958.refs
[Citations: 0]
Participatory epidemiology at the neotropics: study of diseases of backyard livestock and description of hunting patterns in Uaxactún, Maya Reserve Biosphere, Guatemala
Mérida Ruíz, Samuel Alberto
Guerra Centeno, Dennis Sigfried
Bailey Leonardo, Edgar Leonel
Rohn, Karl
Kösters, Sarah
Kreienbrock, Lothar
BMC Research Notes, Vol. 9 (2016), Iss. 1
https://doi.org/10.1186/s13104-016-2009-3
[Citations: 3]