Book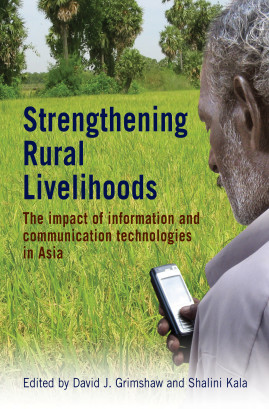 Strengthening Rural Livelihoods
The impact of information and communication technologies in Asia
Published: 2011
Pages: 176

eBook: 9781780440361
Paperback: 9781853397226
Enthusiasm amongst international development agencies about harnessing the potential of information and communications technologies (ICTs) for development has generated questionning of the impact and sustainability of such interventions. By presenting the findings of research specifically designed to measure impact on livelihoods, Strengthening Rural Livelihoods offers new evidence for the development benefits of ICTs. The book asks if ICTs enabled farmers to sell beyond local markets and at better prices, and whether there have been social gains in linking geographically disparate households and social networks. The authors have provided significant new insights into how to overcome the challenges of mainstreaming ICTs into rural livelihoods and more effectively measuring its effects. This book will appeal to academics, civil society organizations, practitioners and students who are interested in what works and what doesn't work when applying ICTs to rural livelihoods.
Prelims (About the Editors, Foreword - Kevin Cleaver, Preface - Laurent Elder, Acknowledgements)

1. Beyond technology: making information work for livelihoods

David J. Grimshaw

2. Price transparency in agricultural produce markets: Sri Lanka

Sriganesh Lokanathan, Harsha de Silva and Iran Fernando

3. A crop nutrient management decision support system: India

Daniel Anand Raj, A. V. Poo, Murugesan, Vijay Pratap Singh Aditya,S. Olaganathan and K. Sasikumar

4. LifeLines: livelihood solutions through mobile technology in India

S. M. Haider Rizvi

5. Connecting to work: non-agricultural livelihood opportunities for rural wage labour in Sri Lanka

Amila Balasuriya and Nilakshi De Silva

6. Impact assessment of the e-AGRIKultura project: Philippines

Erniel B. Barrios, Joseph Ryan G. Lansangan and John Carlo P. Daquis

7. Evaluation of a rural information project in Ningxia, China

Nie Fengying, Zhang Li, Bi Jieying, Liu Fujiang and Tian Xiaochao

8. Beyond projects: making sense of the evidence

Jayantha Gunasekera and Ramona Miranda

Back Matter (Index)
David Grimshaw David J. Grimshaw formerly Head of the New Technologies International Programme at Practical Action, is a Senior Research Fellow at the Department for International Development, and a Visiting Professor in Information and Communications Technology for Development at Royal Holloway, University of London.
Shalini Kala Shalini Kala is the ENRAP Coordinator with the International Development Research Centre Regional Office for South Asia.
Advances in Computer Science and its Applications
Exploring the Key Determinants of Successful ICT Innovation Adoption: A Case Study of a Fishing Community in Thailand
Lee, Heng Wei
Sabudin, Maziani
Idrus, Rosnah
Osman, Mohd Azam
Kruahong, Thongchai
Leanjay, Nattayanee
2014
https://doi.org/10.1007/978-3-642-41674-3_92
[Citations: 0]
Necessary, But Not Sufficient: Critiquing the Role of Information and Communication Technology in Putting Knowledge into Use
Sulaiman V, Rasheed
Hall, Andy
Kalaivani, N.J.
Dorai, Kumuda
Reddy, T.S. Vamsidhar
The Journal of Agricultural Education and Extension, Vol. 18 (2012), Iss. 4 P.331
https://doi.org/10.1080/1389224X.2012.691782
[Citations: 36]
Facilitating Agricultural Technology Adoption Among the Poor: The Role of Service Delivery Through Mobile Phones
Baumüller, Heike
(2012)
https://doi.org/10.2139/ssrn.2237987
[Citations: 34]
ICT4D research: reflections on history and future agenda
Walsham, Geoff
Information Technology for Development, Vol. 23 (2017), Iss. 1 P.18
https://doi.org/10.1080/02681102.2016.1246406
[Citations: 150]