Book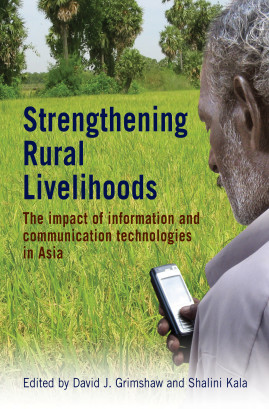 Strengthening Rural Livelihoods
The impact of information and communication technologies in Asia
Published: 2011
Pages: 176

eBook: 9781780440361
Paperback: 9781853397226
Enthusiasm amongst international development agencies about harnessing the potential of information and communications technologies (ICTs) for development has generated questionning of the impact and sustainability of such interventions. By presenting the findings of research specifically designed to measure impact on livelihoods, Strengthening Rural Livelihoods offers new evidence for the development benefits of ICTs. The book asks if ICTs enabled farmers to sell beyond local markets and at better prices, and whether there have been social gains in linking geographically disparate households and social networks. The authors have provided significant new insights into how to overcome the challenges of mainstreaming ICTs into rural livelihoods and more effectively measuring its effects. This book will appeal to academics, civil society organizations, practitioners and students who are interested in what works and what doesn't work when applying ICTs to rural livelihoods.
Section Title
Page
Action
Price

9781780440361.000

1

9781780440361.001

17

9781780440361.002

31

9781780440361.003

49

9781780440361.004

69

9781780440361.005

87

9781780440361.006

104

9781780440361.007

123

9781780440361.008

147
David Grimshaw David J. Grimshaw formerly Head of the New Technologies International Programme at Practical Action, is a Senior Research Fellow at the Department for International Development, and a Visiting Professor in Information and Communications Technology for Development at Royal Holloway, University of London.
Shalini Kala Shalini Kala is the ENRAP Coordinator with the International Development Research Centre Regional Office for South Asia.