Book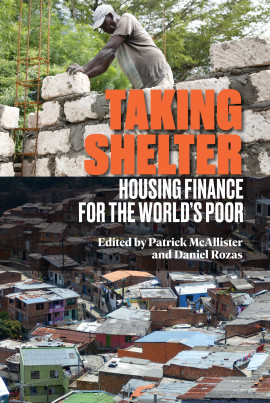 Taking Shelter
Housing Finance for the World's Poor
Patrick McAllister, Daniel Rozas
Published: 2020
Pages: 220

eBook: 9781780447681
Paperback: 9781788530347
Hardback: 9781788530330
PUBLISHING NOVEMBER 2020

How do low-income families, representing some 70% of the world's population, finance home building and improvements – and how is the financial sector, from microfinance institutions and banks to investors and regulators, changing to serve their needs?

The practice of housing microfinance has evolved substantially, with a large number of innovations across the entire housing financing ecosystem. New research methodologies, such as financial diaries, have yielded a deeper and more nuanced understanding of how poor households use finance, both formal and informal, to construct their homes.

The housing finance industry is also growing. The home improvement loans that are at the heart of housing microfinance are offered in hundreds of institutions, leading to important lessons on how they work. Meanwhile, a new class of institutions – micro-mortgage lenders – have emerged to fill the space between housing microfinance and traditional mortgage lending.

On the funding side, debt funding is now available to finance or re-finance housing microfinance loans; while other investors have carved out a new role for equity investing in housing finance – showing the critical role that private investors can play. And now a new breed of public wholesale financing has emerged, showing the catalytic role public sector investment can play in encouraging housing finance markets in their countries.

This volume explores recent innovations in housing microfinance, presented by the innovators themselves: a range of leading experts in the field, from field researchers and financial providers, to investors and regulators. It is a key reference to any reader interested in expanding housing finance for the world's poor.
Figures, tables, boxes and stories

Acronyms

Foreword

Foreword: implications of the COVID-19 pandemic

Editors' preface

Acknowledgements

Introduction

1. The global housing finance challenge for the underserved by Marja C. Hoek-Smit

2. The housing finance ecosystem for the world's poor by Daniel Rozas and Patrick McAllister

3. Do-it-yourself housing by Stuart Rutherford

4. Housing microfinance by Sandra Prieto and Patrick Kelley

5. The funding landscape for affordable housing finance by Deborah Burand, Claudia Rojas, R.V. Verma, W. Britt Gwinner, Lucie Astier Such, Vinod Kothari, and Mona Kachhwaha

Conclusion by Patrick McAllister and Daniel Rozas

Index
'Adequate shelter is essential to the well-being of the poor, but housing finance receives far too little focus. This book helps us understand how lower income people strive to improve their housing and shows us how financial systems can be most supportive. It is a much-needed reminder and update.'
Beth Rhyne, Managing Director, Center for Financial Inclusion

'Good, quality housing is the foundation on which families build their future. Its absence is one of the mainstays of poverty. As this book rightly points out, enabling families to invest in their homes should be a key objective of financial service providers, and it should be on the must-read list of anyone seeking to better the lives of the poor through financial inclusion.'
Laura Foose, Executive Director, Social Performance Task Force

'The world's poor, many of whom are excluded from formal finance, struggle daily to finance adequate housing for their families. This much-needed book both explains and demonstrates how the financial system is providing more options than ever, and what more can be done. Any banker, policy maker, or NGO worker concerned with affordable housing in emerging markets will find practical advice here.'
Amolo Ng'weno, Chief Executive Officer, BFA Global

'This very readable book presents a thorough situation analysis combined with success stories and updated research that will help investors and policy-makers to design and deliver new programs to meet the needs of low income families around the world.'
Debbie Erb, international housing finance expert

'As a funder and practitioner of affordable housing it can be difficult to cut through all the noise and find the signal. Taking Shelter does just that. It's hard to put into words the value this book holds for all anyone focused on affordable housing for the base of the pyramid. I'm excited for others to get their hands on this book.'
Matthew Marshall, Co-founder/Head of Product at New Story

'This is a seminal collection of knowledge, experience and thoughts on how to address the burgeoning crisis in housing for the poor.'
Sanjay Sinha, Managing Director, M-CRIL

'While housing financing systems focus on the middle and high-end markets, most of the world's population finance their housing informally, independently, and inefficiently. Making housing markets work for the poor will require the attention of policy makers, regulators and the providers of finance; and the development of financial tools that engage with the realities and capacities of low-income people. Taking Shelter offers an important contribution to what must become a critical area of focus as nations grapple with the persistent challenge of affordable housing.'

Kecia Rust, Executive Director, Centre for Affordable Housing Finance in Africa
Patrick McAllister finds innovative finance solutions for some of the world's most challenging problems related to poverty and inequality. His experience in housing began at the US Department of Housing and Urban Development and he was Habitat for Humanity's Asia Director of Housing Finance from 2010 to 2015. Currently, in addition to housing finance, he is focusing on the problem of plastic in the ocean.
Daniel Rozas is a senior microfinance expert at e-MFP and a consultant and researcher on a broad range of financial inclusion topics. Prior to his microfinance career, Daniel worked for the US mortgage investment company Fannie Mae during 2001–2008, where he had first-hand experience with the extraordinary boom-and-bust cycle that took place in the US mortgage market during this period.