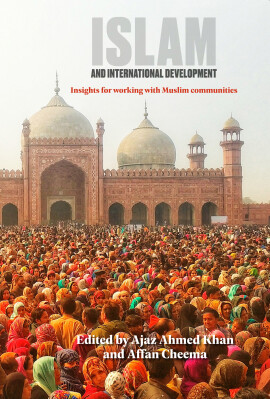 Islam and International Development
Insights for working with Muslim communities
What can we learn from Islamic teachings that will take us closer to addressing today's most pressing development challenges, including forced migration and refugees, safeguarding and child welfare, gender-based violence, climate change, and
peacebuilding and conflict resolution?

How can the mechanisms of charitable giving in Islam, such as zakat, sadaqah and waqf be used to fund development programmes?

Islam and International Development is the culmination of extensive grass-roots experience of working among Muslim communities in developing countries, coupled with the commentary of academics and researchers. It includes analysis of successful projects that have respected and incorporated Islamic teachings into their design and delivery, so that development professionals and Muslim communities can work together to effect meaningful and sustainable change.

Ajaz Ahmed Khan is a Senior Microfinance Adviser at CARE International
Affan Cheema is Head of Programme Quality for Islamic Relief Worldwide
Published: 2020
Pages: 236

eBook: 9781788530613
Paperback: 9781788530606
Hardback: 9781788530590
What can we learn from Islamic teachings that will take us closer to addressing today's most pressing development challenges, including forced migration and refugees, safeguarding and child welfare, gender-based violence, climate change, and
peacebuilding and conflict resolution?

How can the mechanisms of charitable giving in Islam, such as zakat, sadaqah and waqf be used to fund development programmes?

Islam and International Development is the culmination of extensive grass-roots experience of working among Muslim communities in developing countries, coupled with the commentary of academics and researchers. It includes analysis of successful projects that have respected and incorporated Islamic teachings into their design and delivery, so that development professionals and Muslim communities can work together to effect meaningful and sustainable change.

Ajaz Ahmed Khan is a Senior Microfinance Adviser at CARE International
Affan Cheema is Head of Programme Quality for Islamic Relief Worldwide
Tables, boxes, and figures

Acknowledgements

Preface

1. An Islamic prism of poverty

2. The Islamic social sector (zakat and waqf) and development: principles, status, and prospects

3. The importance of spiritual capital within human development in Islamic teaching

4. Translating faith into development: how do Islamic teachings advocate helping the poor?

5. Islamic perspectives on refugees, asylum, and forced migration

6. Gender and Islam

7. Deconstructing Islamic perspectives on sexual and gender-based violence towards a faith-inclusive approach

8. Child protection and safeguarding in an Islamic context: understanding the critical role faith plays in supporting protective mechanisms in humanitarian action

9. An Islamic approach to peacebuilding: putting theory into practice

10. Walking gently on the Earth: Islamic environmentalism and Muslim FBOs

Index
'The research and analysis within Islam and Development: Insights for Working with Muslim Communities offers a valuable insight in to the dynamics of the Islamic faith and development work. A great read for anyone interested or passionate about the relationship between faith and development within Muslim NGOs and INGOs.'
Fadi Itani, CEO, Muslim Charities Forum (MCF)

'Presenting thoughtful and often innovative theological insights as well as fascinating practical examples, this book is a must-read for everybody who wants to understand the role(s) of Islam in contemporary development and humanitarian aid.'
Marie Juul Petersen, The Danish Institute for Human Rights

'Finally, a timely addition to the emerging realms of 'Religion and Development'. This book enables both a detailed series of perspectives, as well as a review of a sample of actual programmes, and engagements, all unpacking the nexus between the lived realities of Muslim communities, and the business of sustainable development. A must read for international development theorists and practitioners alike.'
Azza Karam, Secretary General, Religions for Peace International, and Professor of Religion and Development at the Vrije Universiteit (The Netherlands)

'A remarkable effort to integrate Islamic principles in to the modern development discourse'.
Dr Amjad Saqib, Founder of Akhuwat, Pakistan

'In a period when mainstream development and humanitarian actors in the West are taking a hard look at issues of identity, legitimacy and diversity, this book on the role of Islam in development provides a timely and fresh body of thinking and practice. The quest for locally relevant and locally led action requires outsiders to understand the world from the perspective of those they are seeking to support. The Western dominated system, much of it secular, invariably fails to recognise the importance of faith as a lens through which people view their situations and address the challenges with which they are confronted. If faith as a whole is too often overlooked, then it is safe to assume that the role of Islam is even more poorly understood. Khan and Cheema's book is a much needed analysis of why and how an understanding of Islam is essential to bringing about change in a great many contexts and on many issues where international assistance is currently concentrated.'
John Plastow, Chief of Impact, Oxfam GB
Ajaz Ahmed Khan Ajaz Ahmed Khan is Senior Microfinance Adviser, CARE International. He has extensive experience working on microfinance in countries as diverse as Honduras, Nicaragua, Ecuador, Bosnia and Herzegovina, Kosovo, Pakistan and Sudan; and including helping to establish and develop Islamic microfinance institutions.
Affan Cheema is the Head of Programme Quality at Islamic Relief Worldwide. He holds a MSc in Development Planning and has worked for over two decades in the humanitarian and development sector travelling extensively in Africa, Asia and the Middle East. This experience has given him a valuable insight into the poverty related needs, demands and rights of communities, especially those of a Muslim faith.
A Values-Based Approach for Development: An Islamic Perspective
Deif (أحمد ضيف), Ahmed M.
Cochrane (لوجان كوكران), Logan
Journal of Islamic Ethics, Vol. 6 (2022), Iss. 2 P.284
https://doi.org/10.1163/24685542-12340082
[Citations: 0]
A New Journal for a New Space: Introducing Religion & Development
Öhlmann, Philipp
Adeboye, Olufunke
Asamoah-Gyadu, Kwabena
Bompani, Barbara
Bowers-Du Toit, Nadine
Eggert, Jennifer Philippa
Frost, Marie-Luise
Gräb, Wilhelm
Stork, Juliane
Swart, Ignatius
van Wyk, Tanya
Wilkinson, Olivia
Religion and Development, Vol. 1 (2022), Iss. 1 P.1
https://doi.org/10.30965/27507955-20220001
[Citations: 3]