Book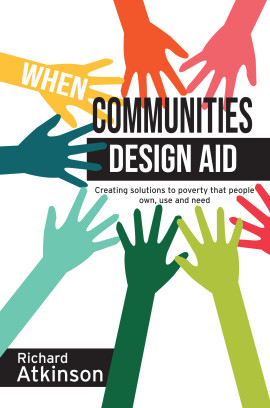 When Communities Design Aid
Creating solutions to poverty that people own, use and need
Published: 2022
Pages: 200

eBook: 9781788531948
Paperback: 9781788531924
Hardback: 9781788531931
Aid initiatives go wrong for many reasons, but a common and surprising one is that poor people often don't want the kind of aid that is offered. This book explores why this happens and how it can be prevented. Richard Atkinson outlines important mistakes that the designers of development programmes often make, illustrating these with examples from the field and analysing what it is that outsiders get wrong when designing for poor communities.
What does aid look like when it is designed from the perspective of the poorest? The second section of the book explores this question, introducing a number of design principles, including how to create solutions that make use of communal ties, work around discrimination, appreciate the importance of aesthetics and can be learned through experience. Atkinson concludes that we need to accelerate radically the transfer of knowledge, skills and power from outside 'experts' to communities on the ground. Using case studies and theory from past development literature, he traces the challenges involved, but also the clear potential to make development truly community led. His concluding 12 proposals for 'Participative Development Goals' will stimulate debate and action amongst development practitioners, researchers and the organisations interested in developing solutions for the world's poorest communities.
1. Why do the poor reject aid? Mistakes and Misconceptions that Commonly Lead to Failure

2. Who are 'The Poor'? Understanding the Audience/s for Development Aid

3. My Village's Name Will Be Up in Lights: Designing for communal cultures

4. Knots and Cages: The Myriad Problems of Reaching the Excluded

5. Selling the new: making change attainable and attractive

6. Building on what exists: hidden infrastructure & scaled up solutions

7. Who Decides, Who Acts? Shifting the Power in Participative Development

8. Setting Participative Development Goals
'Richard Atkinson has written the rare book that succinctly articulates highly complex challenges and, more importantly, provides practical tools to solve them. Atkinson balances academic research with empirical evidence from the field so the two complement, rather than contradict each other, all the while doing so without compromising the perspective of the end-user. The lack of true integration of end-users in designing interventions is at the root of so many failed development initiatives. This book provides an actionable blueprint for bringing the end-user into the design of interventions to ensure that well-intentioned projects don't stumble on a lack of understanding of everyday practicalities at the point of intervention. As such, it effectively challenges the supply-side approach that dominates the field, and is a must-read for anyone hoping to design interventions that positively impact the lives of real people.'
Per Braginski

'A valuable and timely book that stimulates both debate and action to redesign aid. Richard's insights and proposals are essential and critical to understand the challenges and possibilities of of aid design. This is a book for all of us who want to build and live in better, fairer and more sustainable communities'.
Dr Shehnaz Suterwalla, Senior Tutor (Research), Royal College of Art, Kensington Gore, London

'When outsiders design aid interventions, they are planning ways in which we can do good to or for 'the poor'. Rarely do we really listen to and understand the intricacies and diversity of community life; too often we think we know what is best for others; seldom do we exhibit the necessary humility to learn from our mistakes and do better. This welcome book offers a breath of fresh air as it exposes some of the common mistakes outsiders make; provides insights which can deepen our understanding; and proposes ways by which communities can more truly participate in their own development. If you are involved in any way in designing or planning community development programmes, I urge you to read this necessary, well-written and important book.'
Richard Carter, Water sector specialist and Consultant

Richard Atkinson is a development researcher with over a decade's experience of conducting ethnographic field studies in low-income communities in the global south. He teaches as Senior Tutor in the Service Design programme at the Royal College of Art in London, where he works on the intersection between development and design, especially participatory design methods.