Book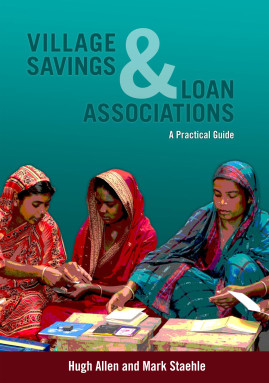 Village Savings and Loan Associations
A Practical Guide
Published: 2007
Pages: 123

eBook: 9781780441016
Paperback: 9781853396656
While many banks and microfinance institutions provide valuable services to the poor in the developing world, they are most successful in economically dynamic urban or peri-urban areas.

30 years since the start of the microfinance revolution, poor people who live in many rural areas and urban slums still find it difficult to access appropriate microfinance products, even in countries with a well developed microfinance sector.

Village Savings and Loan Associations based in the community are complementary to MFIs tending to serve the very poor whose income is less reliable, but also offering useful services to the economically secure.

This manual provides a concise guide to how to set up and run a village savings and loan association and is based on over 15 years of research and development experience.
Prelims (Contents, Photographs and Figures, Tables, Preface, Acknowledgements, Notes to the User, Acronyms and abbreviations)

1. Introduction; Field operations manual

2. Annexes
Mark Staehle
Mark Staehle is Enterprise Advisor, Chars Livelihoods Programme (CLP), a rural development programme of DFID Bangladesh. Prior to joining CLP, Mark was advisor to SafeSave and serves on the board of directors.
Scripting development through formalization: accounting for the diffusion of village savings and loans associations in Tanzania
Green, Maia
Journal of the Royal Anthropological Institute, Vol. 25 (2019), Iss. 1 P.103
https://doi.org/10.1111/1467-9655.12966
[Citations: 6]
A Congolese–US participatory action research partnership to rebuild the lives of rape survivors and their families in eastern Democratic Republic of Congo
Glass, Nancy
Ramazani, Paul
Tosha, Mafille
Mpanano, Mitima
Cinyabuguma, Matthias
Global Public Health, Vol. 7 (2012), Iss. 2 P.184
https://doi.org/10.1080/17441692.2011.594449
[Citations: 23]
Evaluation of the impact of Village Savings and Loan Associations using a novel survey instrument
Brannen, Conner
Sheehan-Connor, Damien
Development Southern Africa, Vol. 33 (2016), Iss. 4 P.502
https://doi.org/10.1080/0376835X.2016.1179097
[Citations: 4]
Does group inclusion hurt financial inclusion? Evidence from ultra-poor members of Ugandan savings groups
Burlando, Alfredo
Canidio, Andrea
Journal of Development Economics, Vol. 128 (2017), Iss. P.24
https://doi.org/10.1016/j.jdeveco.2017.05.001
[Citations: 22]