Book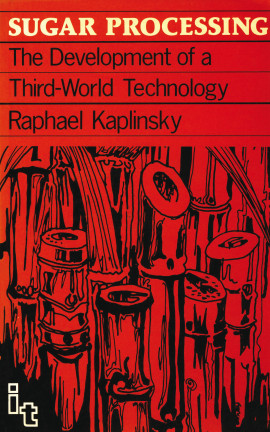 Sugar Processing
The development of a Third World technology
Published: 1984
Pages: 160

eBook: 9781780443508
Paperback: 9780903031981
A study of the technical and economic revival of the small-scale OPS method of sugar processing in India, and its transfer to Kenya. A detailed study of two contrasting situations.
Prelims - Britain and Latin America 1978 (Title Page, Copyright Information, Contents, Contributors, Preface)

1. Britain and Latin America 1978
Raphael Kaplinsky
Raphael Kaplinsky is the author of numerous books on technology, industrialization, and globalization. These include studies on globalization, industrial policy, industrial organization, global value chains, the international automobile sector, computer-integrated automation, computer aided design, the impact of microelectronics on employment, and on appropriate technology.
The international context for industrialisation in the coming decade
Kaplinsky, Raphael
The Journal of Development Studies, Vol. 21 (1984), Iss. 1 P.75
https://doi.org/10.1080/00220388408421931
[Citations: 23]
The State, Technology and Industrialization in Africa
Appropriate Technology in the Public Sector
James, Jeffrey
1995
https://doi.org/10.1057/9780230377196_6
[Citations: 0]
Choice of Technique and Underdevelopment in Tanzania: The Case of Sugar Development Corporation
Chambua, Samuel E.
Canadian Journal of African Studies / Revue canadienne des études africaines, Vol. 24 (1990), Iss. 1 P.17
https://doi.org/10.1080/00083968.1990.10803850
[Citations: 0]
Peasants and Petty Capitalists in Southern Oaxacan Sugar Cane Production and Processing, 1930–1980
Binford, Leigh
Journal of Latin American Studies, Vol. 24 (1992), Iss. 1 P.33
https://doi.org/10.1017/S0022216X0002294X
[Citations: 1]
Conceptualising technical change in the third world in the 1980s: An interpretive survey
Fransman, Martin
The Journal of Development Studies, Vol. 21 (1985), Iss. 4 P.572
https://doi.org/10.1080/00220388508421964
[Citations: 66]