Book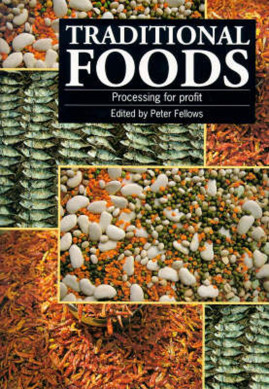 Traditional Foods
Processing for profit
Published: 1997
Pages: 216

eBook: 9781780443676
Paperback: 9781853392283
This is a comprehensive guide to the processing of traditional foods, from Asia, Africa and Latin America, which are made and sold at a small commercial scale of operation. It provides technical information needed by small food businesses to introduce or upgrade their processes and products, and also serves as a suitable guide for new enterprises in the correct production of foods. The book will be of interest to development workers involved in support to small enterprise development programmes, aid agencies, and students of food science and technology, development studies and related disciplines.
Peter Fellows
Dr Peter Fellows is a consultant food technologist specializing in small-scale food processing. Previously he taught food technology at Oxford Brookes University, worked for Practical Action, and has held the UNESCO Chair in Post-Harvest Technology at Makerere University, Uganda. He has practical experience of assisting small-scale food processors in 20 countries and has published 33 books and 40 articles on food processing.
Handbook of Vegetables and Vegetable Processing
Vegetable Fermentation and Pickling
Guizani, Nejib
2011
https://doi.org/10.1002/9780470958346.ch17
[Citations: 2]
Juice Processing
Safety in Fruit Juice Processing
Marín, Sonia
Ramos, Antonio
2014
https://doi.org/10.1201/b16740-17
[Citations: 0]
Indigenous Post-harvest Systems: A Case of Mamone Village in Sekhukhune District, Limpopo Province, South Africa
Phokele, Maponya
Sylvester, Mpandeli
Journal of Human Ecology, Vol. 50 (2015), Iss. 3 P.197
https://doi.org/10.1080/09709274.2015.11906874
[Citations: 1]
Quality Assessment of Biscuits from Green Plantain (Musa paradisiaca) and African Breadfruit (Treculia africana) Flours
Adebowale, Olalekan J.
Ajayi, Adebola
Ibikunle, Titilayo A.
Journal of Culinary Science & Technology, Vol. 11 (2013), Iss. 4 P.336
https://doi.org/10.1080/15428052.2013.798604
[Citations: 0]
Chemical and Sensory Properties of Probioticated Drinks from Blends of African Yam Bean, Soybean and Coconut Milk Analogues
Ikujenlola, Abiodun Victor
Adurotoye, Esther Abiodun
Adeniran, Hezekiah Adekanmi
Acta Universitatis Cibiniensis. Series E: Food Technology, Vol. 23 (2019), Iss. 2 P.147
https://doi.org/10.2478/aucft-2019-0018
[Citations: 4]
ALCOHOLIC BANANA BEVERAGE - ASPECTS IN FERMENTATIVE PRODUCTION
SINGH, SUNITA
TRUPTI, DEKHNE
KIRAN, SINGH
S.D., KULKARNI
Journal of Food Processing and Preservation, Vol. 33 (2009), Iss. 3 P.312
https://doi.org/10.1111/j.1745-4549.2008.00248.x
[Citations: 2]
Environmental life cycle assessment of industrially produced pickled and roasted vegetables
Gül, H.
Üçtuğ, F. G.
Güngörmüşler, M.
International Journal of Environmental Science and Technology, Vol. 19 (2022), Iss. 9 P.8751
https://doi.org/10.1007/s13762-021-03740-1
[Citations: 1]