Book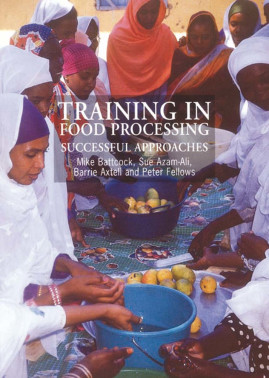 This book shows how to provide effective training in food processing, which can open up opportunities for individuals who lack business experience. It explains the importance of needs assessment, course preparation, monitoring and follow-up, and the value of practical work and opportunities for trainers to discuss their ideas and discoveries. With examples of forms and lesson plans, photographs of appropriate training environments, practical case studies and details of institutions that support food processing training, there is a wealth of information for trainers and organizers of training courses throughout the world.
THE AUTHORS vi

PREFACE vii

1. The importance of food processing training 1

2. Course preparation 8

3. Course implementation 23

4. Monitoring, evaluation and follow-up 46

CASE STUDIES

5. Food processing training in Bangladesh 61

Shaheda Azami, Sue Azam-Ali and Mike Battcock

6. PRODAR's experience in management training for rural agro-industry

– the Central American example 70

Fran¸cois Boucher and Marvin Blanco

7. Training in food processing – a sustainable approach in India 75

J.D. John Jayaraj

8. Food processing as a micro-business in Nepal 80

Sabala Shrestha

9. Training in food processing technologies in Peru 85

Carmen Rodriguez, Diana Colquichagua, Daniel Rodriguez, Pim Heijster

and Walter Rios

10. Fruit processing training in South Africa 91

Joyene Isaacs, Laetitia Moggee and Phillip C. Fourie

11. Food processing training in Sri Lanka 96

Vishaka Hidellage

12. Women mean business in Sudan 104

Abdel Gadir, Sue Azam-Ali and Mike Battcock

13. Food processing training in Uganda 111

Barrie Axtell, Peter Fellows and Mike Dillon

14. UNIDO training programme for women entrepreneurs in the

food processing industry – experiences from Tanzania and Thailand 119

Gabriele Herrmann and Tezer Ulusay de Groot

BIBLIOGRAPHY 127

INSTITUTIONS THAT SUPPORT SMALL-SCALE FOOD PROCESSING TRAINING 133
Mike Battcock
In 2000, Mike Battcock joined the Civil Society Department at the Department for International Development (DFID). He has worked on a range of areas including the Civil Society Challenge Fund, partnership programme agreements and producing guidance material for DFID country offices.
Sue Azam-Ali
Susan Azam-Ali is Assistant Professor, Faculty of Science at the University of Notthingham.
Peter Fellows
Dr Peter Fellows is a consultant food technologist specializing in small-scale food processing. Previously he taught food technology at Oxford Brookes University, worked for Practical Action, and has held the UNESCO Chair in Post-Harvest Technology at Makerere University, Uganda. He has practical experience of assisting small-scale food processors in 20 countries and has published 33 books and 40 articles on food processing.
Barrie Axtell Barrie Axtell worked in the UK food industry for over 10 years, in 1981, he joined ITDG to start its agroprocessing programme and then beccame a private consultant providing technical consultancy inputs to agencies such as FAO, ILO, UNIFEM and ITDG.