Book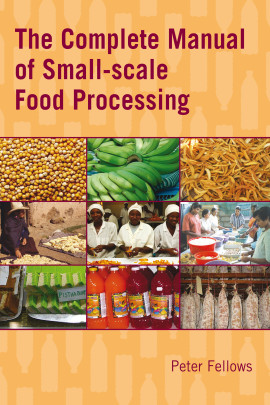 The Complete Manual of Small-scale Food Processing
Published: 2013
Pages: 568

eBook: 9781780447650
Hardback: 9781853397653
Paperback: 9781853397660
Small-scale food processing is important worldwide. For individual processors, it is highly accessible as a start-up business, especially for women; farmers and fishermen can readily diversify into processing to increase their incomes; and high added-value enables processors to earn an income from relatively small scales of production. For policy makers: small-scale food processing can create employment, increase food security and improve nutritional standards.Written by an experienced food technologist and author, this book provides comprehensive technical and business information on all aspects of small-scale food processing in a single text. From how to assess the market, to primary and secondary processing, packaging, managing food safety, and finances, the book covers all the technical details and up-to-date information needed by a food processor. It is written in simple language suitable for the non-specialist and also for people who have English as a second language.
Preface

About the author

Acknowledgements

Contents

Introduction

1. Setting up a production unit

2. Post-harvest processing

3. Secondary processing technologies

4. Packaging

5. Managing food quality and safety

6. Managing production

7. Planning and managing finances

Annexes

Index
Peter Fellows
Dr Peter Fellows is a consultant food technologist specializing in small-scale food processing. Previously he taught food technology at Oxford Brookes University, worked for Practical Action, and has held the UNESCO Chair in Post-Harvest Technology at Makerere University, Uganda. He has practical experience of assisting small-scale food processors in 20 countries and has published 33 books and 40 articles on food processing.