Book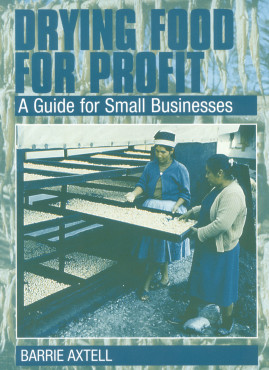 Drying Food for Profit
A Guide for Small Businesses
Published: 2002
Pages: 128

eBook: 9781780444819
Paperback: 9781853395208
This book has been written for existing and prospective entrepreneurs who wish to produce dry foods commercially at small and medium scale. Great effort has been made to use simple language but at the same time to examine all relevant technical aspects.
Prelims (Contents, Acknowledgements, Introduction)

1. Basic principles of food drying; Markets and marketing

2. Small-scale drying technologies

3. Processing common types of foods

4. Planning production

5. Guidelines for the design and construction of small mechanical dryers

Back Matter (Glossary, References and Further Reading, Useful Contacts, Index)
Barrie Axtell
Barrie Axtell worked in the UK food industry for over 10 years, in 1981, he joined ITDG to start its agroprocessing programme and then became a private consultant providing technical consultancy inputs to agencies such as FAO, ILO, UNIFEM and ITDG.
The Design, Fabrication and Performance Evaluation of Solar Sustained Batch Type Maize Dryer for Value Addition
Khan, Fraz Ahmad
International Journal of Agriculture, Environment and Food Sciences, Vol. 2 (2018), Iss. 2 P.50
https://doi.org/10.31015/jaefs.18008
[Citations: 1]
Energetic Analysis in a Spray Drying Process
Journal of Advanced Thermal Science Research, Vol. 7 (2020), Iss. P.40
https://doi.org/10.15377/2409-5826.2020.07.5
[Citations: 0]