Book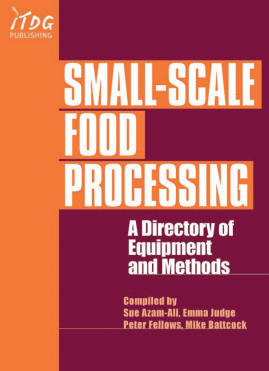 Small-Scale Food Processing
A directory of equipment and methods.
Published: 2003
Pages: 256

eBook: 9781780441368
Paperback: 9781853395048
This completely revised and expanded second edition is the essential reference guide for all those involved in food processing on a small- or medium-scale. Extensively illustrated , clearly laid out and easy to use. A vital reference tool for business advisers and trainers, development workers and food processing.
Prelims (Contents, Acknowledgements, Preface )

1. Introduction; How to Use This Book

PART I: PRINCIPLES OF FOOD PRESERVATION

2. Food Spoilage; Methods of Food Preservation; Food Safety, Hygiene and Quality Assurance; Packaging

PART II: PROCESSING OF FOOD GROUPS

3. Fruits and Vegetables

4. Root Crops; Cereals and Pulses

5. Oil-Seeds and Nuts; Honey, Syrups and Sugar Confectionery

6. Meat and Fish Products; Dairy Products

PART III: DIRECTORY

7. Equipment Directory

8. Manufacturers Directory

Back Matter (Glossary, References and further reading, Index, Improvements to this book, Questionnaire)
Peter Fellows Dr Peter Fellows is a consultant food technologist specializing in small-scale food processing. Previously he taught food technology at Oxford Brookes University, worked for Practical Action, and has held the UNESCO Chair in Post-Harvest Technology at Makerere University, Uganda. He has practical experience of assisting small-scale food processors in 20 countries and has published 33 books and 40 articles on food processing.
Sue Azam-Ali Susan Azam-Ali is Assistant Professor, Faculty of Science at the University of Notthingham.