Book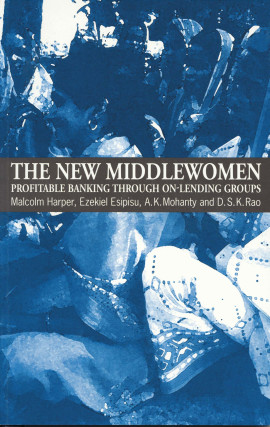 The New Middlewomen
Profitable banking through on-lending groups
Published: 1998
Pages: 144

eBook: 9781780445571
Paperback: 9781853394317
The New Middlewomen describes a unique approach to the delivery of financial services to poor people, which can enable any existing commercial bank profitably to mobilize poor people's savings and provide loans to them, without the need for special systems or new institutions. The New Middlewomen is the result of extensive research funded by the British Department for International Development and the Ford Foundation in Kenya and India and will be essential reading for bankers who wish to support the poor profitably and effectively, and all those with an interest in microfinance issues.
Chapter 1: Introduction

1.1. What are On-Lending Groups ? 1

1.2. Are On-Lending Groups a market for existing banks ? 4

1.3. Why should the banks bother with On-Lending Groups ? 6

1.4. The Scope and Methodology of the Study 9

Chapter 2: The Groups and Their Development

2.1. Do groups already exist ? 14

2.2. Are poor people members of On-Lending Groups ? 22

2.3 Must On-Lending Groups have some literate members ? 28

Chapter 3: The Impact of Membership

3.1. Does membership benefit alHhe members ? 34

3.2. What about those who drop out ? 39

3.3. Does outside money 'spoil' the groups ? 47

Chapter 4: The Development and Assessment of

On-Lending Groups

4.1. How can On-Lending Groups be developed and assessed ? 54

4.2. What does it cost to develop and to assess an On-Lending Group ? 64

4.3. Should the bank or the NGO develop On-Lending Groups ? 73

4.4. What interest rate can On-Lending Groups afford to pay ? 75

4.5. How can On-Lending Groups provide security ? 80

Chapter 5: The Future

5.1. What is stopping the banks ? 85

5.2. Do On-Lending Groups need the Banks ? 104

Chapter 6: Conclusions and Recommendations

Bibliography 125
Malcolm Harper
Malcolm Harper taught at Cranfield School of Management until 1995, and since then has worked mainly in India. He has published on enterprise development and microfinance. He was Chairman of Basix Finance from 1996 until 2006, and is Chairman of M-CRIL, the microfinance credit rating agency.
Does microfinance alleviate poverty and inequality? Studying self-help groups in Bodoland, Assam
Maity, Shrabanti
Sarania, Rahul
Development in Practice, Vol. 27 (2017), Iss. 7 P.1006
https://doi.org/10.1080/09614524.2017.1355353
[Citations: 5]
Impact assessment of group-based credit–lending projects with controlled project placement bias and self-selection bias
Panda, Debadutta Kumar
DECISION, Vol. 44 (2017), Iss. 3 P.227
https://doi.org/10.1007/s40622-017-0148-6
[Citations: 1]
Searching for the Middle Path in Microfinance Delivery
Kumar, Mukul
Sarma, Sushanta Kumar
Social Change, Vol. 46 (2016), Iss. 4 P.512
https://doi.org/10.1177/0049085716666596
[Citations: 1]