Book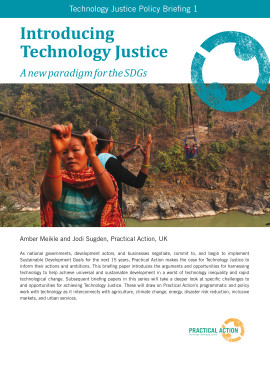 As national governments, development actors, and businesses negotiate, commit to, and begin to implement Sustainable Development Goals for the next 15 years, Practical Action makes the case for Technology Justice to inform their actions and ambitions. This briefing paper introduces the arguments and opportunities for harnessing technology to help achieve universal and sustainable development in a world of technology inequality and rapid technological change. Subsequent briefing papers in this series will take a deeper look at specific challenges to and opportunities for achieving Technology Justice. These will draw on Practical Action's programmatic and policy work with technology as it interconnects with agriculture, climate change, energy, disaster risk reduction, inclusive markets, and urban services.
Executive summary

Technology, innovation and the future of development

Technology injustice: inequitable access to existing technology

Technology injustice: unsustainable use of technology

Technology Justice and the SDGs

The UN Technology Bank and Technology Facilitation Mechanism

The role of the private sector

Technology Justice: a paradigm for change

References
Amber Miekle
Amber Meikle is Senior Policy and Practice Adviser with Practical Action, UK. She leads the organization's influencing on Technology Justice.
Jodi Sugden
Jodi Sugden works with the Policy and Practice team at Practical Action, UK. She supports Practical Action's policy influencing work through research, analysis and communications.