Book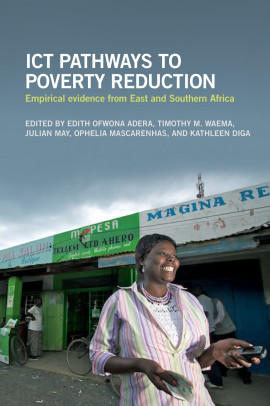 This book provides new empirical evidence on access to and use of ICTs and their effect on poor households in East African and Southern African countries. It addresses the questions: Under what conditions do women benefit economically from using ICTs? How are the livelihoods of rural users affected? Which ICTs are being used by low-income entrepreneurs? ICT Pathways to Poverty Reduction presents a conceptual framework to analyse how poverty dynamics change over time and whether ICT access benefits the poor as well as the not-so-poor. The chapters contain case studies on how various forms of ICTs affect different aspects of poverty based on research in East and Southern African countries at the household level or among micro and small enterprises, concluding that ICTs make a difference to the livelihoods of the poor and contribute to reducing both financial and non-financial dimensions of poverty.
Prelims (Figures, tables and boxes/ Foreword/ Acknowledgements/ Acronyms and abbreviations)
1 Introduction: The ICT/Poverty nexus in Africa
2 Information and communication technologies as a pathway from poverty
3 Political Economy of ICTs and its Effects on Poverty
4 Livelihood and ICTs in East Africa
5 Access and use of Information and Communication Technology and its Contribution to Poverty Reduction in Kenya
6 Impact of Enhanced Access to ICTs on Small and Micro Enterprises in Tanzania
7 Mobile Phones and the Food Price Crisis in Rwanda
8 The complexities of establishing causality between an ICT intervention and changes in quality-of-life: CLIQ in South Africa
9 Internet gone mobile in Namibia
10 Conclusion and Recommendations

Edith Ofwona Adera Edith Ofwona Adera is a Senior Program Specialist, International Development Research Centre, Canada.
Timothy M. Waema Timothy M. Waema is Professor of Information Systems, University of Nairobi.
Julian May Julian May is a Professor at the Institute for Social Development, University of the Western Cape.
Ophelia Mascarenhas Ophelia Mascarenhas is an independent consultant in ICTs, gender and social development.
Kathleen Diga Kathleen Diga is Project Manager, School of Built Environment and Development Studies, University of KwaZulu-Natal.