Book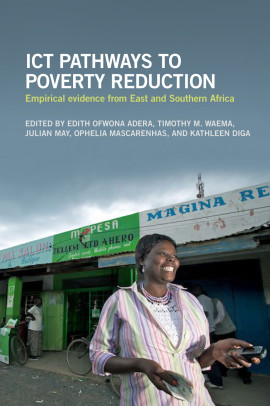 This book provides new empirical evidence on access to and use of ICTs and their effect on poor households in East African and Southern African countries. It addresses the questions: Under what conditions do women benefit economically from using ICTs? How are the livelihoods of rural users affected? Which ICTs are being used by low-income entrepreneurs? ICT Pathways to Poverty Reduction presents a conceptual framework to analyse how poverty dynamics change over time and whether ICT access benefits the poor as well as the not-so-poor. The chapters contain case studies on how various forms of ICTs affect different aspects of poverty based on research in East and Southern African countries at the household level or among micro and small enterprises, concluding that ICTs make a difference to the livelihoods of the poor and contribute to reducing both financial and non-financial dimensions of poverty.
Prelims (Figures, tables and boxes/ Foreword/ Acknowledgements/ Acronyms and abbreviations)

1 Introduction: The ICT/Poverty nexus in Africa

2 Information and communication technologies as a pathway from poverty

3 Political Economy of ICTs and its Effects on Poverty

4 Livelihood and ICTs in East Africa

5 Access and use of Information and Communication Technology and its Contribution to Poverty Reduction in Kenya

6 Impact of Enhanced Access to ICTs on Small and Micro Enterprises in Tanzania

7 Mobile Phones and the Food Price Crisis in Rwanda

8 The complexities of establishing causality between an ICT intervention and changes in quality-of-life: CLIQ in South Africa

9 Internet gone mobile in Namibia

10 Conclusion and Recommendations
Edith Ofwona Adera Edith Ofwona Adera is a Senior Program Specialist, International Development Research Centre, Canada.
Timothy M. Waema Timothy M. Waema is Professor of Information Systems, University of Nairobi.
Julian May Julian May is a Professor at the Institute for Social Development, University of the Western Cape.
Ophelia Mascarenhas Ophelia Mascarenhas is an independent consultant in ICTs, gender and social development.
Kathleen Diga Kathleen Diga is Project Manager, School of Built Environment and Development Studies, University of KwaZulu-Natal.
Open and Distance Non-formal Education in Developing Countries
Radio and Television
Latchem, Colin
2018
https://doi.org/10.1007/978-981-10-6741-9_3
[Citations: 0]
Rethinking positive and negative impacts of 'ICT for development' through the holistic lens of the sustainable development goals
Rothe, Franz-Ferdinand
Information Technology for Development, Vol. 26 (2020), Iss. 4 P.653
https://doi.org/10.1080/02681102.2020.1756728
[Citations: 9]
The use of Information Communication and Technology in advancement of African agriculture
Dionysious, Kiambi
African Journal of Agricultural Research, Vol. 13 (2018), Iss. 39 P.2025
https://doi.org/10.5897/AJAR2018.13300
[Citations: 4]
Re-imagining Diffusion and Adoption of Information Technology and Systems: A Continuing Conversation
Competitiveness, Change Readiness, and ICT Development: An Empirical Investigation of TOE Framework for Poverty Alleviation
Narmetta, Mukesh
Krishnan, Satish
2020
https://doi.org/10.1007/978-3-030-64861-9_55
[Citations: 3]
The place of technology in the Capability Approach
Haenssgen, Marco J.
Ariana, Proochista
Oxford Development Studies, Vol. 46 (2018), Iss. 1 P.98
https://doi.org/10.1080/13600818.2017.1325456
[Citations: 15]
E‐governance in Africa's local governments: Do district assemblies in Ghana optimize the use of websites and social media?
Asamoah, Kwame
The Electronic Journal of Information Systems in Developing Countries, Vol. 85 (2019), Iss. 4
https://doi.org/10.1002/isd2.12082
[Citations: 6]
"Never at ease": cellphones, multilocational households, and the metabolic rift in western Kenya
Ramisch, Joshua J.
Agriculture and Human Values, Vol. 33 (2016), Iss. 4 P.979
https://doi.org/10.1007/s10460-015-9654-3
[Citations: 10]
The Impact of Mobile Phone Uses in the Developing World
Cibangu, Sylvain K.
Hepworth, Mark
Champion, Donna
International Journal of Information Communication Technologies and Human Development, Vol. 9 (2017), Iss. 2 P.20
https://doi.org/10.4018/IJICTHD.2017040102
[Citations: 1]
The forgotten awaken: ICT's evolving role in the roots of mass discontent
Qureshi, Sajda
Information Technology for Development, Vol. 23 (2017), Iss. 1 P.1
https://doi.org/10.1080/02681102.2017.1293963
[Citations: 12]
Climate Change and Green Growth: A Perspective of the Division of Labor
Zhang, Yongsheng
China & World Economy, Vol. 22 (2014), Iss. 5 P.93
https://doi.org/10.1111/j.1749-124X.2014.12086.x
[Citations: 4]
The Role of ICT Use in SMEs Towards Poverty Reduction: A Systematic Literature Review
Mbuyisa, Busisiwe
Leonard, Awie
Journal of International Development, Vol. 29 (2017), Iss. 2 P.159
https://doi.org/10.1002/jid.3258
[Citations: 45]
(Dis)Empowering technologies: ICT for education (ICT4E) in China, past and present
Schulte, Barbara
Chinese Journal of Communication, Vol. 8 (2015), Iss. 1 P.59
https://doi.org/10.1080/17544750.2014.990909
[Citations: 11]
Off and Online Journalism and Corruption - International Comparative Analysis
Poverty by Design: The Role of ICT
Kanjo, Chipo
2020
https://doi.org/10.5772/intechopen.86280
[Citations: 0]
Freedom from Social Echo Chambers: Policy Implications of an Algorithmic Bias
Sleeman, Samuel Peter
Rademan, Broc
(2017)
https://doi.org/10.2139/ssrn.3044265
[Citations: 0]
Information and Communication Technologies for Development
ICT-Based Participation in Support of Palestinian Refugees' Sustainable Livelihoods: A Local Authority Perspective
Aradeh, Osama
Van Belle, Jean-Paul
Budree, Adheesh
2020
https://doi.org/10.1007/978-3-030-65828-1_11
[Citations: 1]
Information and Communication Technologies for Development
Telecentres Use in Rural Communities and Women Empowerment: Case of Western Cape
Alao, Abiodun
Lwoga, Tandi Edda
Chigona, Wallace
2017
https://doi.org/10.1007/978-3-319-59111-7_11
[Citations: 12]
Designing the Ontology of a Smart City Application for Measuring Multidimensional Urban Poverty
Panori, Anastasia
Kakderi, Christina
Tsarchopoulos, Panagiotis
Journal of the Knowledge Economy, Vol. 10 (2019), Iss. 3 P.921
https://doi.org/10.1007/s13132-017-0504-y
[Citations: 5]
ICT Capabilities and the Cost of Starting Businesses in Sub-Saharan African Economies: A Data Analytic Exploration
Samoilenko, Sergey
Osei-Bryson, Kweku-Muata
Journal of Global Information Technology Management, Vol. 24 (2021), Iss. 1 P.7
https://doi.org/10.1080/1097198X.2020.1866897
[Citations: 1]