Book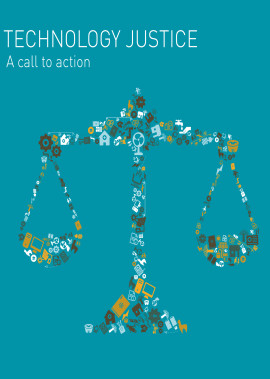 Technology Justice
A Call to Action
Published: 2016
Pages: 40

eBook: 9781780446585
Half of the world is without access to basic technologies that deliver clean water and sanitation, a modern energy supply, generic medicines, and mechanized agriculture — and the other half takes these technologies for granted. This publication presents the concept of Technology Justice and the case for radical and urgent action to achieve it. Using examples from different countries and sectors it demonstrates the injustice of who can access and benefit from existing technologies; and the injustice of the misuse of technology and its environmental and social impacts. It then looks at how the drivers of innovation are perpetuating these injustices.
Technology Justice presents an alternative future, in which technological innovation creates more equitable access to technology and sustainable use of technology. It makes the case for an urgent change of direction in order to realize this different future, and the need for a renewed focus on building strong national innovation systems, a greater role for the state in R&D and new market rules to achieve this.
It calls individuals and organizations to action: to collaborate in building evidence and knowledge of fairer development and application of technology; to raise voices together to challenge the status quo and demand change. It calls for new alliances and partnerships, in order to forge a new path for technology and innovation, as part of a movement for Technology Justice.
1. The power of technology

2. The injustice of who can access technology

3. The injustice of how technology is used

4. The injustice created by technological innovation

5. It is time to create a just future

6. A call to action
Amber Miekle
Amber Meikle is Senior Policy and Practice Adviser with Practical Action, UK. She leads the organization's influencing on Technology Justice.