Book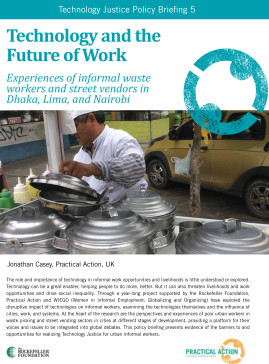 Through a year-long project supported by the Rockefeller Foundation, Practical Action and WIEGO have explored the disruptive impact of technologies on informal workers, examining the technologies themselves and the influence of cities, work, and systems. This policy briefing presents evidence of the barriers to and opportunities for realizing Technology Justice for urban informal workers.
Prelims [Summary| Introduction]

What influences technology choice

Conclusions
Jonathan Casey
Jonathan Casey is Policy Officer with Practical Action, UK. He supports Practical Action's policy influencing work on technology and innovation through research, analysis and communications.