Book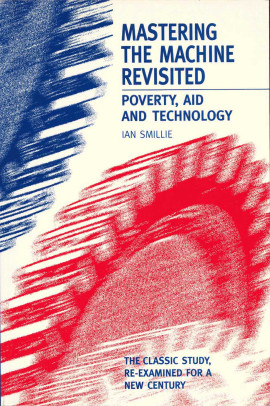 Mastering the Machine Revisited
Poverty, aid and technology
Published: 2000
Pages: 304

eBook: 9781780445144
Paperback: 9781853395079
Hardback: 9781853395147
The 50-year struggle to harness technology in the fight against global poverty- and why is it taking so long?
Mastering the Machine Revisited is about the connection between poverty, aid and technology. It is about the search driven today by greater extreme poverty than has ever been known, and by a realization that the technologies applied to the problem have severe limitations. In this substantially revised edition, the author revisits the development problems of the 1980's to see what progress has been made. The book also revisits promising innovations, projects and people described in the first edition, discovering what lasted, what failed and why. It considers the developmental impact of new and accelerating phenomena: globalization, the explosion of information and communication technologies, increasingly complex emergencies, weaker governments, bigger companies and escalating debt. For the South, this is a time of immense technological opportunity and optimism. It is also a period of unimaginable poverty and hopelessness. And it is unlike any other period in history, for today, in addition to artisans and artists, farmers, machinists and dreamers, the direction of technology is influenced by bureaucrats, economists, faraway corporate planners, aid agencies and charities. Never before have so many non-technical people exerted so much influence on the advancement, retardation and direction of technology. Mastering the Machine Revisited is about the interaction between these people, and between poverty, aid and technology.
ACRONYMS vii

PREFACE TO THE NEW EDITION ix

PREFACE TO THE FIRST EDITION xi

PART ONE: THE FAILURE TO LEARN FROM FAILURE

I A tale of two worlds 3

II Poverty in the South 22

III The best of the West: thinking big 35

IV The third sector and the Third World 48

PART TWO: WHAT WE KNOW

V Technology in history: lies and promises 69

VI Small is beautiful 86

VII Farmers, food and forests 104

VIII Post-harvest technologies 121

IX Energy and power 137

X The house that Jack built: construction materials 154

XI Light engineering and the very late starters 171

PART THREE: AN ENABLING ENVIRONMENT

XII Sustainability: myths and reality 189

XIII Perspectives on women and technology 200

XIV Employment and the informal sector: the economists lose control 214

XV Globalization, adjustment and all that 226

XVI Mastering the machine 246

NOTES 262

BIBLIOGRAPHY 279

INDEX 282
Ian Smillie
Ian Smilie has worked at Tufts and Tulane Universities and as a development consultant with many Canadian, American and European organizations. He served on a UN Security Council Expert Panel examining the relationship between diamonds and weapons in West Africa, and he helped develop the 48-government 'Kimberley Process,' a global certification system to halt the traffic in conflict diamonds.
Vulnerability, Partnerships and the Pursuit of Survival: Urban Livelihoods and Apprenticeship Contracts in a West African City
Hanson, Kobena
GeoJournal, Vol. 62 (2005), Iss. 1-2 P.163
https://doi.org/10.1007/s10708-005-7915-1
[Citations: 6]
Rural mechanisation: a review of processes, policies, practice and literature
Gass, G. M.
Biggs, Stephen D.
Project Appraisal, Vol. 8 (1993), Iss. 3 P.157
https://doi.org/10.1080/02688867.1993.9726905
[Citations: 7]
Designs on development: engineering, globalization, and social justice
Nieusma, Dean
Riley, Donna
Engineering Studies, Vol. 2 (2010), Iss. 1 P.29
https://doi.org/10.1080/19378621003604748
[Citations: 97]
Engineering and War
Blue, Ethan
Levine, Michael
Nieusma, Dean
2014
https://doi.org/10.1007/978-3-031-02113-8
[Citations: 0]
The Pursuit of Human Well-Being
The Role of Technology in the History of Well-Being: Transformative Market Phenomena Over Time
Selian, Audrey N.
McKnight, Lee
2017
https://doi.org/10.1007/978-3-319-39101-4_19
[Citations: 7]
The role of company image as brand equity
Ross‐Wooldridge, Barbara
Brown, Mark P.
Minsky, Barbara D.
Corporate Communications: An International Journal, Vol. 9 (2004), Iss. 2 P.159
https://doi.org/10.1108/13563280410534357
[Citations: 10]
Technologie-Praxis "Angepaßte Technologie"
Zusammenfassende Erörterung von AT-Konzepten und sie charakterisierende Dimensionen und Merkmale
Bierter, Willy
1993
https://doi.org/10.1007/978-3-322-90128-6_2
[Citations: 0]
Challenging knowledge hierarchies: working toward sustainable development in Sri Lanka's energy sector
Nieusma, Dean
Sustainability: Science, Practice and Policy, Vol. 3 (2007), Iss. 1 P.32
https://doi.org/10.1080/15487733.2007.11907990
[Citations: 4]
Development Institutions and Small-Scale Enterprises in Ghana
Arthur, Peter
Journal of Contemporary African Studies, Vol. 25 (2007), Iss. 3 P.417
https://doi.org/10.1080/02589000701662418
[Citations: 9]
Technology Support for Small-scale Industry in Developing Countries: A Review of Concepts and Project Practices
Romijn, Henny
Oxford Development Studies, Vol. 29 (2001), Iss. 1 P.57
https://doi.org/10.1080/13600810124790
[Citations: 10]
Engineering and Society: Working Towards Social Justice Part I: Engineering and Society
Baillie, Caroline
2009
https://doi.org/10.1007/978-3-031-79949-5
[Citations: 0]
Technology adoption and Sub-Sahara african agriculture: The sustainable development option
Durosomo, Babatunde
Agriculture and Human Values, Vol. 10 (1993), Iss. 4 P.58
https://doi.org/10.1007/BF02217561
[Citations: 4]