Book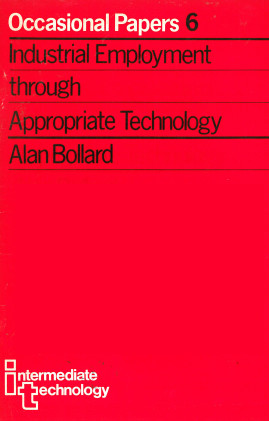 Industrial Employment through Appropriate Technology
Published: 1983
Pages: 28

eBook: 9781780442495
Paperback: 9781853393617
This paper outlines the role that appropriate technology can play in employment generation in the industrialized West, and is illustrated with examples of technologies already in industrial operation and the policies designed to support them.
9781780442495.000 1

9781780442495.001 8
1. What is Appropriate Technology? 8
2. Technology Development in the West 9
3. A Policy of Employment Generation 12
4. When is a Technology Appropriate? 14
5. Some Appropriate Technologies in Industry 15
6. Energy and Resource Conservation 18
7. Organisations for Employment Generation 22
8. Appropriate Support Systems 25
9. Impact of Appropriate Technology on Employment Creation 28

Bibliography 30
Alan Bollard
Dr Alan Bollard was appointed as Governor of the Reserve Bank of New Zealand in September 2002. Dr Bollard has also worked as an economist in a variety of positions in the United Kingdom and in the South Pacific.