Book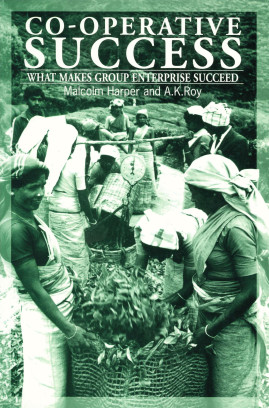 Co-operative Success
What makes group enterprise succeed
Published: 2000
Pages: 152

eBook: 9781780440750
Paperback: 9781853395000
Using a broad definition of co-operatives as organizations with the majority ownership in the hands of its customers, suppliers or employees, this book identifies factors associated with successful group enterprises. It aims to help those who promote co-operative development to be more selective in choosing situations where this type of enterprise has a good chance of working, and offers guidelines and a blueprint for support staff. The book starts by identifying a tentative list of factors which are believed to be associated with co-operative success. It describes how the list was refined through a survey of expert opinion, a questionnaire and analysis of published literature. The main body of the text consists of case studies showing the range of co-operatives in operation and providing raw material for analysis. The study is directed towards co-operatives which prioritize poverty alleviation over economic success. The conclusion draws together the findings of the survey and attempts to identify patterns and commonalities. By combining a formal historical survey with case studies the book gives both a theoretical and experiential view of what is the 'middle' way between state ownership and the private sector. This book is of value to anyone who is involved in the possible establishment of a new group enterprise or advising, assisting or managing an existing one.
Acknowledgments

INTRODUCTION

1. The Purpose of the Study

Background

The Need

The Structure

2. The Initial Survey of Informed Opinion

The Issues

The Survey

The Results

Issues with More Unanimity

Issues with Less Unanimity

"Hard" versus "Soft"

Ranking by Importance

The Hypotheses

3. Case Study Selection and Preparation

Introduction

Co-operatives in Orissa

What are "Co-operatives" and What is "Success" ?

The Nomination Process

Field Investigations

TME CASE STUDIES

4. Local Savings Groups

"Unused" Savings Groups

Women's Savings and Credit in Venkatraipur

' The Adi Jambavara Sangha

Women's Goat Groups

5. Bangladesh Grameen Bank - Joint Activities

Land Mortgage for Jackfruit Cultivation

Banana Garden Lease

Irrigated Paddy Cultivation

The Bhawal Rajabari Branch

6. Linkage Dependent Co-operatives

The Bedwa Milk Producers' Co-operative Society

The Kakarudrapur Weavers, Society

7. Handicraft Groups

GouriHandicrafis Society

Raghurajpur Chitrakarigar Society

The Kuliana Bell-metal Co-operative Society

The Orissa Filigree Workers

8. Weaving Co-operatives

The Khurda Weavers

Nuapatna Weavers' Society Number One

The Baripada Powerloom Weavers

9. General Activity Societies

Samakunta Artisans Multi Purpose Society

The Mayurbhanj Sabai Grass Processing Society

The Baisinga LAMPS

10. Women-only Societies

The Self-help Handicrafts Society

Cuttack District Mahila Vikas Society

ANALYSIS AND CONCLUSIONS

1 1. Analysis and Conclusions

Content Analysis

Leadership

Objectives

Member Homogeneity

Political Links ,

Subsidy and Assistance

Single or Multi-activity

Flexibility or Tight Structure

Autonomy or State Control

High Investment or Low

Competition vs. Monopoly

Regular or Occasional Members' Transictions

Multiplex. or Standardised Transactions

High or Low Centrality

Complex or Simple Operations

Conclusions

Bibliography
Malcolm Harper
Malcolm Harper taught at Cranfield School of Management until 1995, and since then has worked mainly in India. He has published on enterprise development and microfinance. He was Chairman of Basix Finance from 1996 until 2006, and is Chairman of M-CRIL, the microfinance credit rating agency.
A K Roy
A K Roy is Director at Indira Gandhi Institute of Cooperative Management.
Collective action without collective ownership: community associations and logging on the Amazon frontier
Merry, F
Amacher, G
Macqeen, D
Santos, M. Guimares Dos
Lima, E
Nepstad, D
International Forestry Review, Vol. 8 (2006), Iss. 2 P.211
https://doi.org/10.1505/ifor.8.2.211
[Citations: 8]
Beyond Capitalism
Is a Non-capitalist Economy Possible?
Sapelli, Giulio
2019
https://doi.org/10.1007/978-3-030-20769-4_3
[Citations: 0]