Book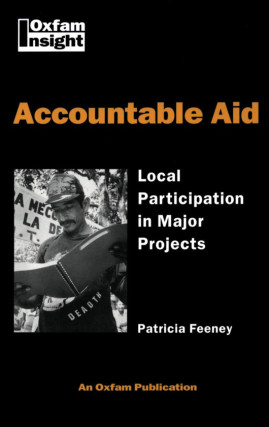 Accountable Aid
Local Participation in Major Projects
Published: 1998
Pages: 176

eBook: 9780855986483
Paperback: 9780855983741
The Earth Summit in Rio in 1992 generated much rhetoric about the need for collaboration between local communities and multilateral funders of major development projects, in order to preserve natural resources. Since then there has been intense debate about the importance of local participation, accountability to local communities, transparent procedures and gender-sensitive planning. In this work, the author examines the case of the Rondonia Natural Resource Management Project (PLANAFLORO) in the Amazon, funded by the World Bank, and considers the frustrations created when local NGOs and communities were effectively excluded from decisions about a project that claimed to be participatory. In contrast, she considers examples of relatively good practice, most notably the Joint Forest Management project, funded by the British Overseas Development Administration, in Karnataka, India. The author also examines recent atttempts by the World Bank to involve local governments in decision making. From a focus on individual projects, the book moves to a consideration of local participation in entire projects - the World Bank's Country Assistance Strategies - and community involvement in projects funded by the private sector. It ends with a summary of the lessons to be learned by local and international NGOs and by major donors.
Section Title
Page
Action
Price

bk-accountable-aid-010198-en.pdf
Patricia Feeney
Patricia Feeney was senior policy adviser on social and economic rights for Oxfam GB.