Book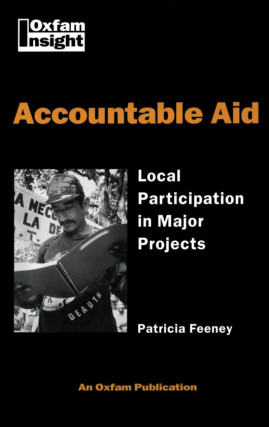 Accountable Aid
Local Participation in Major Projects
Published: 1998
Pages: 176

eBook:
Paperback: 9780855983741
The Earth Summit in Rio in 1992 generated much rhetoric about the need for collaboration between local communities and multilateral funders of major development projects, in order to preserve natural resources. Since then there has been intense debate about the importance of local participation, accountability to local communities, transparent procedures and gender-sensitive planning. In this work, the author examines the case of the Rondonia Natural Resource Management Project (PLANAFLORO) in the Amazon, funded by the World Bank, and considers the frustrations created when local NGOs and communities were effectively excluded from decisions about a project that claimed to be participatory. In contrast, she considers examples of relatively good practice, most notably the Joint Forest Management project, funded by the British Overseas Development Administration, in Karnataka, India. The author also examines recent atttempts by the World Bank to involve local governments in decision making. From a focus on individual projects, the book moves to a consideration of local participation in entire projects - the World Bank's Country Assistance Strategies - and community involvement in projects funded by the private sector. It ends with a summary of the lessons to be learned by local and international NGOs and by major donors.
Acknowledgements

Preface

Chapter 1. Participatory development, An overview

Chapter 2. The World Bank and the Brazilian Amazon, lessons in participation

Chapter 3. Gender, equity, and exclusion in the Western Ghats

Chapter 4. Global benefits, local costs, expulsion from the Kibale Forest

Chapter 5. Accountability mechanisms

Chapter 6. Extending participation and ensuring equity

Chapter 7. Lessons learned -the benchmarks for accountable development

Appendix. NGO's and participation - the benefits of forest protection in Orissa

Notes

Selected bibliography
Patricia Feeney
Patricia Feeney was senior policy adviser on social and economic rights for Oxfam GB.
External engagement: The Baltic experience
Lasas, Ainius
Journal of Baltic Studies, Vol. 35 (2004), Iss. 4 P.360
https://doi.org/10.1080/01629770400000161
[Citations: 3]
Lessons about parks and poverty from a decade of forest loss and economic growth around Kibale National Park, Uganda
Naughton-Treves, Lisa
Alix-Garcia, Jennifer
Chapman, Colin A.
Proceedings of the National Academy of Sciences, Vol. 108 (2011), Iss. 34 P.13919
https://doi.org/10.1073/pnas.1013332108
[Citations: 103]
Participatory Empowerment and Economic Capacitation in Disabled Peoples' Cooperatives in South Africa
Guambe, J.
Ige, K.D.
Tshabalala, N.G.
Journal of Sociology and Social Anthropology, Vol. 8 (2017), Iss. 3 P.130
https://doi.org/10.1080/09766634.2017.1347199
[Citations: 1]
Gender, Environment and Social Transformation: A Study of Selected Villages in Himachal Pradesh
Minocha, Richa
Indian Journal of Gender Studies, Vol. 22 (2015), Iss. 3 P.335
https://doi.org/10.1177/0971521515594274
[Citations: 4]
Vertically Integrated Policy Monitoring: A Tool for Civil Society Policy Advocacy
Fox, Jonathan
Nonprofit and Voluntary Sector Quarterly, Vol. 30 (2001), Iss. 3 P.616
https://doi.org/10.1177/0899764001303015
[Citations: 34]
Now there is no land: a story of ethnic migration in a protected area landscape in western Uganda
Hartter, Joel
Ryan, Sadie J.
MacKenzie, Catrina A.
Goldman, Abe
Dowhaniuk, Nicholas
Palace, Michael
Diem, Jeremy E.
Chapman, Colin A.
Population and Environment, Vol. 36 (2015), Iss. 4 P.452
https://doi.org/10.1007/s11111-014-0227-y
[Citations: 37]
Co-Managing Human–Wildlife Conflicts: A Review
Treves, Adrian
Wallace, Robert B.
Naughton-Treves, Lisa
Morales, Andrea
Human Dimensions of Wildlife, Vol. 11 (2006), Iss. 6 P.383
https://doi.org/10.1080/10871200600984265
[Citations: 297]
Thread, Web and Tapestry‐making: processes of development and language
Robinson, Clinton D. W.
Compare: A Journal of Comparative and International Education, Vol. 29 (1999), Iss. 1 P.23
https://doi.org/10.1080/0305792990290103
[Citations: 2]
Displacement and Resettlement in Tribal and Non-tribal Dominated Dam Projects of Orissa
Hota, Laxmi Bilash
Suar, Damodar
Psychology and Developing Societies, Vol. 23 (2011), Iss. 1 P.85
https://doi.org/10.1177/097133361002300104
[Citations: 1]
The empty rhetoric of poverty reduction at the base of the pyramid
Arora, Saurabh
Romijn, Henny
Organization, Vol. 19 (2012), Iss. 4 P.481
https://doi.org/10.1177/1350508411414294
[Citations: 105]
Institutional Performance and Social Capital: An Application to the Local Government Level
Coffé, Hilde
Geys, Benny
Journal of Urban Affairs, Vol. 27 (2005), Iss. 5 P.485
https://doi.org/10.1111/j.0735-2166.2005.00249.x
[Citations: 66]
The Dreams Plan: A Blupoint Strategy for e-Education Provision in South Africa
Walls, Eamonn
Santer, Mike
Wills, Gary
Vass, Jeff
The Electronic Journal of Information Systems in Developing Countries, Vol. 70 (2015), Iss. 1 P.1
https://doi.org/10.1002/j.1681-4835.2015.tb00507.x
[Citations: 4]
Spatial patterns of illegal resource extraction in Kibale National Park, Uganda
MACKENZIE, CATRINA A.
CHAPMAN, COLIN A.
SENGUPTA, RAJA
Environmental Conservation, Vol. 39 (2012), Iss. 1 P.38
https://doi.org/10.1017/S0376892911000282
[Citations: 58]
Research Participation Influences Willingness to Reduce Zoonotic Exposure in Uganda
Bloomfield, Laura S. P.
Tracey, Christopher
Mbabazi, Edith
Schultz, Rhiannon L.
Henderson, Rebecca
Bardosh, Kevin
Randolph, Shannon
Paige, Sarah
EcoHealth, Vol. 19 (2022), Iss. 2 P.299
https://doi.org/10.1007/s10393-022-01589-5
[Citations: 0]
Local responses to a forest park in western Uganda: alternate narratives on fortress conservation
Hartter, Joel
Goldman, Abraham
Oryx, Vol. 45 (2011), Iss. 1 P.60
https://doi.org/10.1017/S0030605310000141
[Citations: 47]
Unpacking 'gender' in joint forest management: Lessons from two Indian states
Elias, Marlène
Grosse, Alessandra
Campbell, Natalie
Geoforum, Vol. 111 (2020), Iss. P.218
https://doi.org/10.1016/j.geoforum.2020.02.020
[Citations: 5]