Book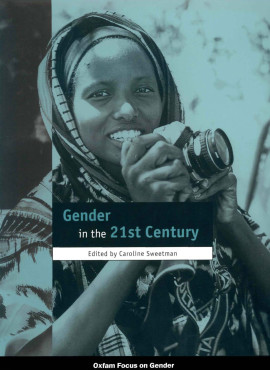 Gender in the 21st Century
Published: 2000
Pages: 120

eBook: 9780855987503
Paperback: 9780855984274
From the perspective of development specialists and feminist activists, this book considers the challenges facing gender and development practitioners and policy-makers in the 21st century. Despite some successes women in many countries remain in abject poverty, lacking food, clean water, education and medical care. Women throughout the world are still economically, politically and socially marginalised at a time when the globalisation of business, industry and communications technology is radically changing our world. But who is deciding the rules af this stateless society and how can women and men who live in poverty challenge them? What other questions do gender and development workers face? Possible answers come from Ruth Pearson, Madhu Bala Nath, Peter Sternberg and Judy El-Bushra.
* Editorial

Caroline Sweetman

* Moving the goalposts: Gender and globalisation in the 21st century

Ruth Pearseon

* Gender, globalisation, and democracy

Sylvis Walby

* Globalisation and gender training for the media: Challenges and lessons learned

Patricia A. Made

* Women's labour and economic globalisation: A participatory workshop created by Alternative Women in Development

Carol Barton and Elmira Nazombe

* 'We are forgotten on earth': International development targets, poverty, and gender in Ethiopia

Fra von Massow

* Rethinking gender and development practise for the 21st century

Judy El-Bushra

* 'Put your money where your mouth is!': The need for public investment in Women's organisations

Siobhan Riordan

* Culture as a barrier to rural women's entrepreneurship: Experience from Zimbabwe

Colletah Chitsike

* 'Queering ' development: Exploring the links between same-sex sexualities, gender, and development

Susie Jolly

* Challenging machiso: Promoting sexual and reproductive health with Nicaraguan men

Peter Sternberg

* Women's health and HIV: Experience from a sex workers' project in Calcutta

Madhu Bala Nath

* Resources

* Publications

* Organisations

* Web resources

* E-mail lists

* Video
Caroline Sweetman was previously Editor of the international journal Gender & Development.