Book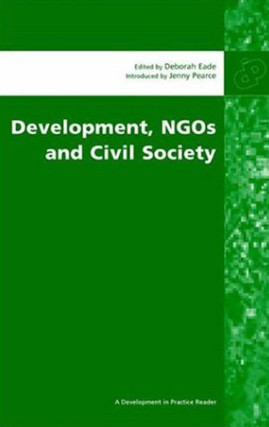 Experienced practitioners and academics provide an insightful look into the limitations of NGOs in claiming to represent and assist 'civil society'. Changes in approaches to development are situated within changes in global political economy. Relations between donors, states and NGOs are also considered in specific contexts. The volume outlines many of the tensions NGOs face in claiming to speak for the poor while also remaining accountable to national and international actors. Together the authors provide an excellent overview of these important issues.
Contributors

Preface Deborah Eade

Development, NGOs, and civil society: the debate and its future Jenny Pearce

Scaling up NGO impact on development: learning from experience Michael Edwards and David Hulme

Help yourself by helping The Poor Gino Lofredo

NGOs: ladles in the global soup kitchen? Stephen Commins

Collaboration with the South: agents of aid or solidarity? Firoze Manji

Corporate governance for NGOs? Mick Moore and Sheelagh Stewart

'Dancing with the prince': NGOs' survival strategies in the Afghan conflict Jonathan Goodhand with Peter Chamberlain

NGOs and the State: a case-study from Uganda Christy Cannon

NGOs, the poor, and local government Christopher Collier

Let's get civil society straight: NGOs, the state, and political theory Alan Whaites

Depoliticising development: the uses and abuses of participation Sarah C. White

Birds of a feather? UNDP and ActionAid implementation of Sustainable Human Development Lilly Nicholls

Strengthening civil society: participatory action research in a militarised state Amina Mama
Deborah Eade
Deborah Eade was Editor-in-Chief of Development in Practice from 1991 to 2010, prior to which she worked for 10 years in Latin America. She is now an independent writer on development and humanitarian issues, based near Geneva.