Book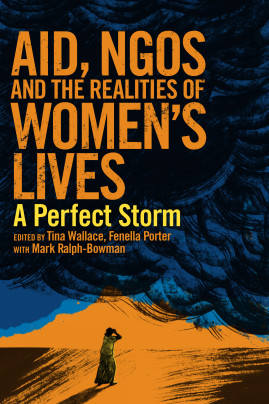 Aid, NGOs and the Realities of Women's Lives
A perfect storm
Published: 2013
Pages: 256

eBook: 9781780447780
Hardback: 9781853397783
Paperback: 9781853397790
Aid organizations have their origins in a desire to help the world's poorest and most marginalized people – but are they reaching these people? Factors are coming together that put pressure on NGOs working in development: the economic crisis, the growing conditionality of aid, and increased competition for funding between NGOs. This creates 'a perfect storm' driven by a new language of aid, policies and procedures leaving poor women behind. This book explores how international NGOs are navigating these rapid changes that challenge their role and legitimacy, values, and overall purpose. The writers see a crisis for NGOs as they are pulled further from those they claim to work with; they also explore alternative ways of conceptualizing development, and of bringing about improvements for the most marginalized and increasingly 'unheard' women.

This book is essential reading for development practitioners and those working on women's rights, as well as NGO staff , researchers, and students of development studies.
1.Introduction

Tina Wallace and Fenella Porter

Section One – A Perfect Storm

2.Development from the ground: A worm's eye view

Stan Thekaekara

3.Evaluation, complexity, uncertainty – theories of change and some alternatives

Chris Mowles

4. Losing Sight of our Purpose?

Suzanne Walker

5. Can girls save the world?

Kate Grosser and Nikki van der Gaag

6. Lost in Translation: Gender Mainstreaming in Afghanistan

Anastasiya Hozyainova

7. Insulating the Developing Classes

Tom Scott-Smith

8. Reconnecting Development Policy, People and History

David Lewis

Section Two – Changing conversations

9. Taking our lead from reality - an open practice for social development

David Harding

10. Women on wheels

Meenu Vadera

11.Too young to be women, too old to be girls: The [Un]Changing Aid landscape and the reality of girls at risk

Seri Wendoh

12. Looking Beyond the Numbers: reducing violence against women in Ghana

Kanwal Ahluwalia

13. From local to global and back again – learning from Stepping Stones

Alice Welbourn

14.Peace Practice Examined

Bridget Walker

15. I don't know ... and related thoughts

Ashish Shah

16.Apolitical stories of sanitation and suffering women

Deepa Joshi

17.Conclusion

Tina Wallace
Tina Wallace Tina Wallace has worked in development, as an academic, practitioner and activist for over 35 years and has conducted reviews with the major NGOs including Oxfam, ActionAid, WaterAid, Amnesty International, as well as IIED and the UK's Department for International Development.
Fenella Porter Fenella Porter lectures in development at Birkbeck College, University of London. She has been an activist and researcher on development and gender, with NGOs and women's organizations in Africa and the UK.
The Politics of Evidence and Results in International Development
Playing the rules of the game and other strategies
Guijt, Irene
2015
https://doi.org/10.3362/9781780448855.011
[Citations: 6]
From complexity to simplicity – how chasing success stories affects gendered NGO practices
Kloster, Maren Olene
Development in Practice, Vol. 30 (2020), Iss. 4 P.437
https://doi.org/10.1080/09614524.2020.1720609
[Citations: 0]
Keeping our core values ALIV[H]E. Holistic, community-led, participatory and rights-based approaches to addressing the links between violence against women and girls, and HIV
Hale, Fiona
Bell, Emma
Banda, Annie
Kwagala, Betty
van der Merwe, L. Leig-Ann
Petretti, Silvia
Yuvaraj, Anandi
Journal of Virus Eradication, Vol. 4 (2018), Iss. 3 P.189
https://doi.org/10.1016/S2055-6640(20)30263-6
[Citations: 4]
Merging Developmental and Feminist Evaluation to Monitor and Evaluate Transformative Social Change
Haylock, Laura
Miller, Carol
American Journal of Evaluation, Vol. 37 (2016), Iss. 1 P.63
https://doi.org/10.1177/1098214015578731
[Citations: 1]
Capturing changes in women's lives: the experiences of Oxfam Canada in applying feminist evaluation principles to monitoring and evaluation practice
Miller, Carol
Haylock, Laura
Gender & Development, Vol. 22 (2014), Iss. 2 P.291
https://doi.org/10.1080/13552074.2014.920980
[Citations: 3]
The Politics of Evidence and Results in International Development
Introduction - The Politics of Evidence and Results in International Development
Eyben, Rosalind
Guijt, Irene
2015
https://doi.org/10.3362/9781780448855.001
[Citations: 2]
Partnerships for the Goals
Women-Led Partnerships and the Achievement of the Sustainable Development Goals
Steinfield, Laurel
Hein, Wendy
2021
https://doi.org/10.1007/978-3-319-95963-4_20
[Citations: 1]
What we talk about when we talk about leadership in South Sudan
Masua, David
Mowles, Chris
Sarra, Nicholas
Development in Practice, Vol. 30 (2020), Iss. 1 P.27
https://doi.org/10.1080/09614524.2019.1662770
[Citations: 0]
The Role of Indigeneity NGOs in the Legal Recognition of Adat Communities and Customary Forests in Indonesia
Arizona, Yance
Wicaksono, Muki Trenggono
Vel, Jacqueline
The Asia Pacific Journal of Anthropology, Vol. 20 (2019), Iss. 5 P.487
https://doi.org/10.1080/14442213.2019.1670241
[Citations: 4]
Bridging inequalities through inclusion: women's rights organisations as the 'missing link' in donor government-led participatory policy development and practice
Hunt, Abigail
Bond, Hannah
Ojiambo Ochieng, Ruth
Gender & Development, Vol. 23 (2015), Iss. 2 P.347
https://doi.org/10.1080/13552074.2015.1054196
[Citations: 2]
Partnerships between philanthrocapitalists and donors: the case of Girl Hub
Shutt, Catherine Ann
Development in Practice, Vol. 31 (2021), Iss. 7 P.909
https://doi.org/10.1080/09614524.2021.1938516
[Citations: 0]
Tackling gender inequalities and intimate partner violence in the response to HIV: moving towards effective interventions in Southern and Eastern Africa
Gibbs, Andrew
African Journal of AIDS Research, Vol. 15 (2016), Iss. 2 P.141
https://doi.org/10.2989/16085906.2016.1204331
[Citations: 9]
Gender, Monitoring, Evaluation and Learning
CHAPTER 6 – Capturing changes in women's lives: the experiences of Oxfam Canada in applying feminist evaluation principles to monitoring and evaluation practice
Miller, Carol
Haylock, Laura
2018
https://doi.org/10.3362/9781780447049.006
[Citations: 0]
Re-imagining development by (re)claiming feminist visions of development alternatives
Wallace, Tina
Gender & Development, Vol. 28 (2020), Iss. 1 P.31
https://doi.org/10.1080/13552074.2020.1724698
[Citations: 1]
Gender and Inequalities
CHAPTER 11 – Bridging inequalities through inclusion: women's rights organisations as the 'missing link' in donor government-led participatory policy development and practice
Hunt, Abigail
Bond, Hannah
Ochieng, Ruth Ojiambo
2018
https://doi.org/10.3362/9781780447278.011
[Citations: 0]
Why it Hurts – Save the Children Norway and the Dilemmas of 'Going Global'
Kloster, Maren Olene
Forum for Development Studies, Vol. 46 (2019), Iss. 1 P.109
https://doi.org/10.1080/08039410.2018.1511632
[Citations: 4]
The Value for Money agenda: from a straitjacket to a learning approach
D'Emidio, Francesca
Wallace, Tina
Development in Practice, Vol. 29 (2019), Iss. 6 P.685
https://doi.org/10.1080/09614524.2019.1586834
[Citations: 1]
Partnerships for the Goals
Women-Led Partnerships and the Achievement of the Sustainable Development Goals
Steinfield, Laurel
Hein, Wendy
2019
https://doi.org/10.1007/978-3-319-71067-9_20-1
[Citations: 0]