Book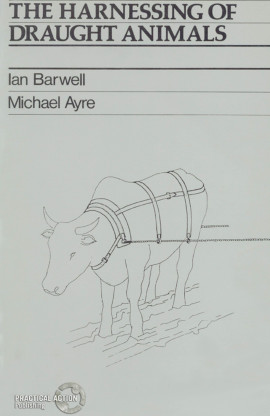 The Harnessing of Draught Animals
Published: 1982
Pages: 100

eBook: 9781780444376
Paperback: 9780946688722
Despite efforts to increase the level of mechanisation, animals remain an important existing or potential source of power in rural areas of developing countries, primarily in agriculture and transport, but also for water pumping, forestry, road construction, etc. This book details the most common method of the use of animals as draught animals.
INTRODUCTION

PART 1 HARNESSING PRINCIPLES

1.1 Characteristics of Draught Animals 1

1.2 Harnessing Principles 6

PART 2 BOVINE HARNESSES

2.1 Traditional Bovine Harnesses 13

2.2 Improved Bovine Harnesses - General 23

2.3 Single Eovine Harnesses 26

2.4 Double Bovine Harnesses . 54

PART 3 EQUINE HARNESSES

3.1 Basic Breastband Harnesses

3.2 Collar Harnesses

3.3 Attachment of Implements

PART 4 INFORMATION SOURCES 92
Ian Barwell
Ian Barwell is a transport and infrastructure consultant, business development adviser, and freelance writer on transport and development. He is also an associate at Hifab International and freelance consultant for IBAR Business Services
Michael Ayre
Michael Ayre is a Managing Director at Crucible Industrial Design Ltd
Effect of liveweight and body condition on work output from draft oxen
Bartholomew, P. W.
Khibe, T.
Little, D. A.
Tropical Animal Health and Production, Vol. 26 (1994), Iss. 1 P.58
https://doi.org/10.1007/BF02241135
[Citations: 7]
Relationships between cardio-respiratory parameters and draught work output in F1 crossbred dairy cows under field conditions
Zerbini, E.
Gemeda, T.
O'Neill, D. H.
Howell, P. J.
Schroter, R. C.
Animal Science, Vol. 55 (1992), Iss. 1 P.1
https://doi.org/10.1017/S000335610003720X
[Citations: 10]
Proceedings of the 20th Congress of the International Ergonomics Association (IEA 2018)
Allocation of Function Revisited: The Use of Animals in Productive Processes and Systems
O'Neill, David
2019
https://doi.org/10.1007/978-3-319-96071-5_85
[Citations: 0]
Welfare considerations when attaching animals to vehicles
Hovell, G.J.R
Applied Animal Behaviour Science, Vol. 59 (1998), Iss. 1-3 P.11
https://doi.org/10.1016/S0168-1591(98)00116-6
[Citations: 3]
Effect of change in body weight and condition during the dry season on capacity for work of draft oxen
Bartholomew, P. W.
Khibe, T.
Little, D. A.
Ba, S.
Tropical Animal Health and Production, Vol. 25 (1993), Iss. 1 P.50
https://doi.org/10.1007/BF02236886
[Citations: 9]
The Welfare of Horses
Specific Welfare Problems Associated with Working Horses
Wilson, R. T.
2002
https://doi.org/10.1007/978-0-306-48215-1_9
[Citations: 4]
The donkey as a draught power resource in smallholder farming in semi-arid western Zimbabwe: 2. Performance compared with that of cattle when ploughing on different soil types using two plough types
Nengomasha, E.M.
Pearson, R.A.
Smith, T.
Animal Science, Vol. 69 (1999), Iss. 2 P.305
https://doi.org/10.1017/S1357729800050876
[Citations: 1]